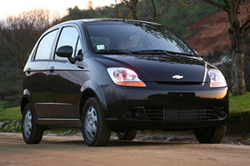 The subcompact vehicles produced in recent years are becoming more popular with consumers who are seeking better fuel mileage and lower retail prices for new vehicles
Dallas, TX (PRWEB) June 22, 2014
Spark is one of the builds introduced by General Motors to promote subcompact vehicles in the U.S. this year. To help current vehicle owners find replacement motors easier, the Got Engines company is discounting its Chevy Spark used 1.2L engines for sale.
The production of the "city car" builds by GM over the past several years has introduced both smaller gasoline and electric engines to the public. The Ecotec 1.2L motors that are available for sale in the retail section of the GotEngines.com website maintain quality and a low mileage ratio.
"The subcompact vehicles produced in recent years are becoming more popular with consumers who are seeking better fuel mileage and lower retail prices for new vehicles," said a GotEngines.com source.
The Ecotec DOHC inventory that is positioned inside the Got Engines company inventory includes more than the 1.2L editions. Recent partner changes have taken place and have made it easier to acquire the 2.0, 2.2 and 2.4 series I4 motors that are used in other Chevrolet vehicle brands.
"The used Chevy Spark engines that a person can access while researching our inventory do come complete with an extended service warranty that is included in the retail price," the source said.
The Got Engines company is expected to improve other inventory brands this year aside from the General Motors units now offered. Customer assistance is now being provided daily by way of a new toll-free access line at 1-866-320-1065 to activate warranties, deliver prices and introduce other incentives.
About GotEngines.com
The GotEngines.com company is now a national source for locating used motor vehicle engines that are sold under retail pricing in North America. The company policies for establishing discounts have changed this year to expand better price points for the public. The GotEngines.com company has intelligently designed its engine quotation system that consumers instantly access on the homepage to find sale prices for all inventory shippable this year.