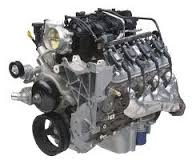 Price promotions that are now slashing the regular price are scheduled to be available for the duration of 2013.
Albany, New York (PRWEB) July 12, 2013
Sales of Chevrolet vehicles continue to grow annually based on new creations and reissues of classics. One replacement engine builder online is now slashing its prices to help engine installers purchase at a more affordable price. The CrateEngines.co company has changed its Chevy V8 crate engine pricing as a top builder in North America. The current inventory of 350 block inventory can be viewed at http://www.crateengines.co/chevy/350-chevy-crate-engine.
"The special price promotions apply to the complete GM 350 base in stock," a sales representative from the CrateEngines.co company said. This company houses a growing inventory of Chevrolet and GMC based engines that are shipped domestically to various buyers. Price promotions that are now slashing the regular price are scheduled to be available for the duration of 2013.
The Vortec engine family is now included in the sale pricing launched. Additional variants in the Generation III and IV families are part of the sales extension. This series of discounts is in comparison with Ford Motor Company price changes announced in the spring of this year. To make room for more engine types, these sale prices are helping to clear current stock. A new phase of inventory adjustments is currently underway.
The price changes that are announced for the 350 base V8 motors includes the attachment of three-year warranties that are now standard with all sales. These unlimited mileage warranties are in place because of additional testing and calibration that takes place shortly after a build is completed. Consumers searching for a price below MSRP could benefit from the announced price drops for these replacement Chevy engines for sale.
About CrateEngines.co
The CrateEngines.co company leads the secondary market for sales online of rebuilt crate motors for Ford, Chevy, Dodge and Jeep vehicles. The company staff of engine experts produces each reconditioned engine with factory specs. The complete policy for warranties guarantees all rebuilds from OEM parts defects and other deterioration after purchase. The CrateEngines.co company invests in rebuilding technologies as a way to continuously improve engine performance. The processing of same day customer shipments has improved all delivery schedules for orders placed this year.