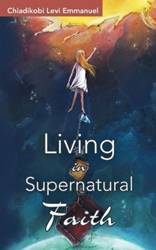 UKPOR, Nigeria (PRWEB) May 14, 2015
Author Chiadikobi Levi Emmanuel demonstrates the power of God in his new book, "Living in Supernatural Faith" (published by Partridge Africa).
"I always wondered why the God of the Bible seems to be different from the God of the Church," Emmanuel says. "The God of the Bible is the God of miracles, signs and wonders, while the God of the Church is virtually adamant. The missing link is faith."
In his book, Emmanuel guides readers in learning how to operate in faith and do exploits for the glory of God. He expounds on the question of how to have faith, helping readers to understand that they are recreated as faith-beings in Jesus while denouncing concepts that commonly scare readers away from living powerful lives of faith.
An excerpt from "Living in Supernatural Faith":
"The young saint needs a ground to stand and learn how to flow in the supernatural faith. This book is written to inspire him. It may not be the best for him; however, it will nurse him. The ideas shared in it are those upon which I stand flying in the supernatural faith."
"Living in Supernatural Faith"
By Chiadikobi Levi Emmanuel
Softcover | 5 x 8in | 234 pages | ISBN 9781482804034
E-Book | 234 pages | ISBN 9781482804027
Available at Amazon and Barnes & Noble
About the Author
Chiadikobi Levi Emmanuel is an Anglican clergyman who had a vision of Jesus anointing him, which he says led him to do mighty miracles, signs and wonders in his ministry. He founded Jesus Healing Ministry, a teaching, healing and deliverance ministry in Nigeria. His diverse TV programs on local and cable TV networks have benefited many people within and outside Nigeria.
Partridge Africa, a Penguin Random House company, is a supported self-publishing brand powered by Author Solutions LLC. Through Partridge, authors in Africa are given direct access to a comprehensive range of expert publishing services—consultation with and author support from a team of professionals, online book distribution, book availability in print and digital formats, cover and layout design, editing, and many others—that meet industry standards but are more accessible to the market. For more information, visit partridgepublishing.com/africa and follow @partridgeAfrica on Twitter for the latest news.