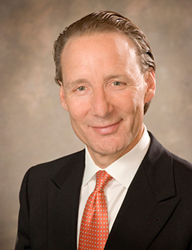 [A] ban on using Google Glass while driving seems to simply be a common sense approach to reducing the risk of distracted driving accidents.
Chicago, IL (PRWEB) March 05, 2014
Chicago auto accident attorney Patrick A. Salvi voiced his support for a proposed bill that would bar Illinois drivers from using Google Glass.
"In recent years, our law firm has seen distracted driving become a serious problem in Chicago and elsewhere in Illinois, specifically drivers causing accidents because they were distracted when using their cell phones to talk, send texts or surf the Internet," said Salvi, the Managing Partner of the Chicago personal injury law firm of Salvi, Schostok & Pritchard P.C.
"Based on what we know of Google Glass, it carries the risk of being a distracting device as well," Salvi said. "So, a ban on using Google Glass while driving seems to simply be a common sense approach to reducing the risk of distracted driving accidents."
State Sen. Ira Silverstein (D-Chicago) filed the bill, S.B. 2632, in December 2013 in the Illinois General Assembly. The bill would prohibit drivers from operating a motor vehicle while wearing a "mobile computing headset" except under limited circumstances.
The ban would not apply to police and emergency responders carrying out their official duties, drivers communicating with emergency personnel or drivers who are parked on the shoulder of a roadway.
As Reuters recently reported, Illinois is among eight states currently mulling restrictions on the use of Google Glass headsets while driving. ("Exclusive: Google Sets Roadblocks to Stop Distracted Driver Legislation," Reuters, February 25, 2014.)
According to Reuters, a proposed ban in Delaware received support from that state's Developmental Disabilities Council, which stated its belief that drivers' use of headsets such as Google Glass could lead to more car accidents and, in turn, more spinal cord and traumatic brain injuries.
The Associated Press describes Google Glass as a device that "features a thumbnail-size transparent video display on a lens in front of the user's right eye." ("Chicago Legislator Wants to Bar Drivers from Using Google Glass," Associated Press, December 7, 2013.)
The device allows users to make phone calls and access the Internet. It is expected to hit the mass market in the U.S. later this year.
Salvi, whose firm represents car accident victims and their families in Illinois, said that distracted driving has become so common that it is now standard procedure for attorneys to request cell phone records when investigating crashes.
"However, we are encouraged that this problem can be significantly reduced through new laws in Illinois and by increasing public awareness of the dangers of distracted driving," Salvi said.
As Salvi pointed out, a law went into effect in Illinois on January 1, 2014, which bars drivers from using hand-held cell phones.
Illinois law also prohibits drivers of all ages from texting while driving. Drivers ages 18 and under are prohibited from using cell phones of any kind (hand-held or hands-free). Restrictions on cell phone use also apply to drivers going through school and construction/road maintenance zones.
About Salvi, Schostok & Pritchard P.C.
Salvi, Schostok & Pritchard P.C. is a leading Chicago personal injury firm with offices in Chicago (22 West Washington Street, Suite 1600, Chicago IL 60602) and Waukegan (218 North Martin Luther King Jr. Avenue, Waukegan, IL 60085). In addition to representing clients in catastrophic personal injury, medical malpractice, aviation and product liability cases, the firm focuses on car and truck accidents, airplane and train accidents, construction injuries, birth injuries, brain injuries, unsafe properties and animal attacks. The firm has obtained more than $800 million on behalf of its clients in personal injury and wrongful death cases, including 195 multi-million dollar verdicts or settlements. For more information, call (312) 372-1227 or use the firm's online contact form.