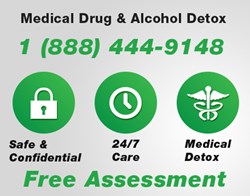 Chicago, IL (PRWEB) October 04, 2013
Medical Drug Detox Center is pleased to announce that free drug and alcohol detoxification support is now available in Chicago.
Substance abuse problems can turn ordinary people's lives upside down. Alcoholism is a horrid disease that affects the body, mind and spirit.
Other drugs like oxycontin, Klonopin, and cocaine – when taken beyond "normal" levels – destruct whatever kind of lives people have from an emotional and physical standpoint.
When people attempt to detox from drugs and alcohol on their own, the results are not always successful. Getting the proper help and support for gaining and maintaining long-term sobriety can turn lives around. People discover that recovery is an easier, softer way after detox.
Reaching out for help is not a sign of weakness. It becomes a source of strength and shows that an individual is ready to leave that substance abuse-filled life in his or her past.
For more information on Medical Drug Detox Center, visit http://drugdetox.org or call (888) 444-9148.