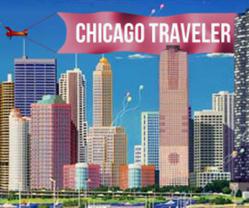 Chicago, Illinois (PRWEB) July 12, 2013
Extended stays are sometimes required in certain professions, during a special family getaway or just to get away and travel for a while. Great Chicago hotels are found all over the city but there are a few that offer the feeling of home while vacationing longer than usual. Pick a home away from home for it's proximity to the airport, its convenience to downtown attractions, the guest services it provides or just the fact that they're pet friendly. After a long day of business, let an extended stay Chicago hotel do the rest of the work, and just sit back and enjoy the rest of the stay.
At Home Inn Chicago
If it didn't suggest enough by the name, the At Home Inn aims to make guest as comfortable as they would be in their own home in fantastic Chicago vacation rentals, extended stay suites and bed and breakfast accommodations in Chicago. They will accomplish just that with the charm and comfort of their bed and breakfast style accommodations. At Home Inn has several locations throughout the city, including Downtown, Gold Coast, Lincoln Park Buchtown/Wicker Park, Wrigleyville apartments and more to fit every living preference and vacation plan. Furnished guestrooms are better than hotel's with their homey features for a comfortable stay in an urban setting.
The Homestead
This inn provides the warm welcomes that only a family owned business can give. Relax in quiet and intimate accommodations perfect for solo travelers, families and business travelers. Enjoy the perks of being home with complimentary breakfast, maid service and free parking. Options are available based on each traveler's needs and travelers can pick between studio, 1-bedroom and 2-bedroom apartments for daily or monthly rental.
Extended Stay America - Chicago - O'Hare - North
The Extended America is a top choice for long term O'Hare Airport hotels, and a great place to stay for a few days to a few weeks. Their spacious rooms feature fully equipped kitchens and work space for visiting the town and getting business done, too. There is convenient access to sightseeing, close to many of the best attractions in Chicago, dining options and stores for an extended stay. Grab an easy complimentary breakfast, make use of the complimentary WiFi and bring the dog along for the trip, too!
Homewood Suites by Hilton® Downtown Chicago
Homewood stands out from Chicago Downtown hotels, offering tons of complimentary extras and a fantastic Downtown locations, just half a block from Magnificent Mile. Start every day off right with a complimentary hot breakfast and end weekdays (Monday-Thursday) with a complimentary dinner. Escape to the room after a day exploring downtown or busy at work and enjoy all the other great things the city has to offer, like concerts, shows, events and festivals throughout the summer. Relax in their luxury suites with WiFi, full kitchens and two HDTV's. Mix the high end feel of the downtown hotel with the budget friendly extended Chicago stay option.
Chicago River Hotel
This hotel on the Chicago River provides travelers with all they need for a stay for business or pleasure. During this stay, take advantage of a full fitness center, their on site Italian restaurant, complimentary Internet service and multiple business amenities. Don't spend every minute hard at work, because there are plenty of opportunities for quality time on the Magnificent Mile, from fantastic shopping and dining to the Mile's nightlife. Downtown Chicago hotels provide the convenience of being close to all the best things to do in Chicago and many of the biggest corporations and offices in town, and this extended stay Chicago hotel provides a luxurious room to enjoy it all in! The Chicago River Hotel matches the elegance of the surrounding city and its prime location allows travelers to experience it all.
Residence Inn Chicago Downtown/Magnificent Mile
This hotel is the ultimate feel-like-home-once-you-walk-in kind of place. Wake up to a complimentary breakfast buffet everyday, come home to a happy pet who is allowed to stay here and even join the tradition of BBQ night every Wednesday. This is a business traveler's dream hotel with grocery shopping services, kitchen with refrigerators and microwaves and a social hour at the end of the day. Spend the next business or family trip in the modern suites of this Magnificent Mile hotel.
About ChicagoTraveler.com:
Chicago is one of the top vacation destinations in America famous for their annual events, popular foods, and architecture and top sports teams. ChicagoTraveler.com guides travelers to all the best things to do, top places to eat and deals on the best places to stay in Chicago. Lizz Riggs, editor of ChicagoTraveler.com, can help travelers find all the best things to do, places to stay and deals to take advantage of on their next trip.