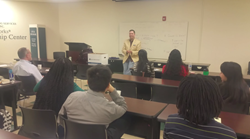 "I am thankful for the opportunity to be able to educate and inform the local youth population on imperative matters such as immigration law," says Matthew Katz.
Chicago, IL (PRWEB) August 04, 2015
Katz Law Office, Ltd. is pleased to announce that Managing Partner Matthew A. Katz recently presented at a One Summer Chicago session held on July 13 at Park Federal Bank in Chicago, Illinois. One Summer Chicago partnered with The Back of the Yards Neighborhood Council to present the July session.
One Summer Chicago works to connect government institutions, community organizations and local companies to offer over 25,000 employment and internship opportunities to youth and young adults located in the Chicagoland area. The organization holds multiple youth informative sessions throughout the summer where students have the chance to learn about different fundamental topics.
Katz presented to a group of around 15 students ranging in age from 16 to 24 years old. All of the participants were either from the Deferred Action for Childhood Arrivals Program (DACA) or both of their parents were born abroad. Katz's presentation allowed students to gain a basic insight on immigration law. This information is crucial because many of the participating students act as translators for their parents and it is imperative for them to understand their legal rights in the United States.
July's One Summer Chicago session also touched on important life skills and tasks such as: how to buy a house, how to obtain insurance, and how to effectively open and maintain a bank account.
"I am thankful for the opportunity to be able to educate and inform the local youth population on imperative matters such as immigration law. We are empowering these young adults by providing them with crucial knowledge and an understanding of this country's legal system that they can then share with their parents and family members," says Chicago Immigration Lawyer Matthew Katz.
Cook County immigration lawyer Matthew A. Katz is the Managing Partner of Katz Law Office, Ltd. located in Chicago, Illinois. Katz obtained his J.D. from DePaul University College of Law. He focuses his legal practice on immigration law, criminal law, family law and civil litigation. For over 20 years, Katz has dedicated his time and efforts to numerous local community projects and social activism initiatives in order to help to ensure that civil rights are protected.
Katz is a member of the American Bar Association, Chicago Bar Association, Illinois State Bar Association, the American Immigration Lawyer's Association, and the Association of Trial Lawyers of America (ATLA). He has taught numerous classes and seminars on various topics including: U.S. government and law, U.S. history, and world studies and economics.
About Katz Law Office, Ltd.:
The experienced Chicago attorneys at Katz Law Office, Ltd. are advocates for human and civil rights on behalf of local immigrant communities. The attorneys and support staff at Katz Law Office, Ltd. are bilingual and can help navigate Spanish-speaking clients through the complex United States legal system. To best serve clients, the firm has multiple law offices throughout the Chicago area and one location in Mexico City.
The Chicago lawyers provide experienced and knowledgeable legal guidance in immigration law, criminal defense, family law and civil litigation. To schedule a free initial consultation call Katz Law Office, Ltd. at (773) 847-8982 or visit our website and fill out the online contact form.