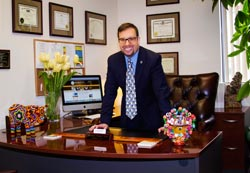 "The web-hosted shows ensure that people can listen and watch episodes when it is convenient for them," says Owner and Attorney of Katz Law Office, LTD. Matthew Katz
Chicago, IL (PRWEB) July 07, 2014
Chicago immigration law firm Katz Law Office, LTD. is pleased to announce the re-launch of their radio show. The show covers numerous legal topics ranging from immigration to family law issues.
The legal radio show, The People's Right, will be hosted on ustream.com, but can also be heard on 1450 AM between 10:00am-12:00pm central Monday-Friday. Chicago Immigration Attorney, Matthew Katz, hosts the show along with co-hosts Mario Cornejo and Luis Fernandez.
The People's Right touches on a variety of legal topics including immigration, visa assistance, deportation defense, criminal law, traffic and licenses, divorce and marital property, business law, child issues, wills and trusts, personal injury law suits, employment lawsuits and civil rights abuse. Click here to watch and listen to The People's Right.
"The shows are designed to provide valuable insight and legal developments to the community. The web-hosted shows ensure that people can listen and watch episodes when it is convenient for them," says Owner and Attorney of Katz Law Office, LTD. Matthew Katz.
Chicago immigration attorney Matthew Katz is passionate about educating and serving the Chicago community. For several years he has been committed to fighting for the rights of poor and minority communities and his clients. He is an active member of numerous professional organizations including: the American Immigration Lawyers Association (AILA), the Chicago Bar Association, the Illinois State Bar Association and the American Bar Association. Katz focuses his legal practice on immigration law, family law, civil litigation and criminal law.
The attorneys at Katz Law Office, LTD. are advocates for human and civil rights on behalf of Chicago's immigrant communities. They are fluent in Spanish and can guide both English and non-English speaking clients through the often confusing and intimidating American legal system. The Chicago lawyers provide experienced legal guidance in immigration law, criminal defense, family law and civil litigation. Contact Katz Law Office, LTD at 773-847-8982 or fill out the online contact form.