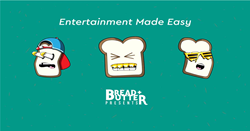 New York is a tough city to get by in. I had the pleasure of meeting Andrew on one of my first trips to NYC...simply knowing him [gave] me full access to the big apple.
Chicago, Illinois (PRWEB) June 20, 2017
This month, Bread N Butter Presents, a chicago nightlife network already partnered with Studio Paris Chicago, The Underground Chicago, Shay Chicago, and Prysm Chicago, has secured a promotional partnership with the best nightclubs NYC nightlife has to offer: Lavo NYC & all other associated clubs (Tao Nightclub NYC, PHD Rooftop NYC, Marquee Nightclub NYC, & Avenue Nightclub NYC). Catering to the Chicago nightlife goer who is getting stir crazy, but doesn't know the right connections to hit the town smoothly on the East Coast; Bread N Butter Presents is promising a safe & fun luxury experience when out of town. Looking forward, Bread N Butter Presents is excited to what the future holds as their relationship-based network continues to grow.
Giving the glory to someone else, Martin Parsley, Founder/CEO of Bread N Butter, continues to give thanks to Tao Group Partner Andrew Goldberg. "New York is a tough city to get by in. I had the pleasure of meeting Andrew on one of my first trips to NYC back in 2012 and simply knowing him has given me full access to the big apple. Back then, he was doing a former mentor of mine [Josh Hauer of Lettuce Entertain You] a favor by taking care of me. The guy does hospitality on another level. I was a green twenty two or twenty three year old, but I didn't feel like it! Lavo, Avenue, PHD; all the top spots. Wherever I went, he gave me and my rag-tag group of friends the red carpet treatment."
Although Bread N Butter Presents Chicago offers these new services, Martin still plans to keep it local. He says "We have been in the lab working on mostly Chicago based campaigns; the New York partnerships just happened organically on a random trip. While we are proud to offer accommodations at all these spots, the vision has always been greater than nightclubs: Music, Events, Fashion. The plan is to hone in on all that for the local Chicagoan."
BREAD N BUTTER PRESENTS
On December 27, 2015, Bread N Butter Presents independently partnered with RedBull Chicago and handled the talent booking & full production of the 3rd and biggest installment of #OreoFest at Portage Theater on Chicago's Northwest side. The event featured performances by Metro Boomin'​, Lil Durk, Towkio, Rockie Fresh, Katie Got Bandz, Joey Purp, Phor, Sicko Mobb, Martin $Sky and had apperances by Chance The Rapper and Vic Mensa just to name a few.
Having already worked with so many notable people, the company has shifted its focus to becoming a one-stop shop for anything entertainment & experiential promising consistent surprises all the way through 2018. Starting the summer of 2017 off by already partnering with the best nightclubs in NYC, there's no telling what's coming next.
ABOUT BREAD N BUTTER PRESENTS
Bread N Butter Presents is a Chicago-based concert, nightlife, and entertainment marketing group aimed at facilitating valuable experiences for their customers. Founded by influential experts in entertainment, Bread N Butter Presents specializes in concert production, luxury nightlife accommodations, talent management & booking, and entertainment marketing. Partnered with Studio Paris, The Underground Chicago, Shay Chicago, Prysm Chicago, and Joy District; our team has the IN with the best night clubs in Chicago to provide people the best experiences locally. Now partnered with Tao Group!
From Chicago nightlife to hip hop concerts, Bread N Butter Presents can help fans find the best events in Chicago tonight; even if they aren't producing them ourselves.
To have Bread N Butter Presents produce an experiential event or assist with a special occasion, please visit BNBPresents.com. Call 773 888 3164 for expert entertainment consulting & digital marketing.
Bread N Butter Presents is the premier Chicago start-up for entertainment marketing, nightlife, and experiential event planning.