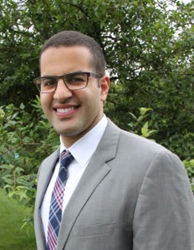 Dr. Said has received several awards for both his clinical skills and devotion to his patients. He joins Premier Pain Specialists as a Board Certifiied and Fellowship Trained pain doctor.
Chicago, IL (PRWEB) August 27, 2014
Premier Pain Specialists announces that Dr. Omar Said, MD, has joined the practice. As an Award Winning, Board Certified Chicago pain management doctor, Dr. Said concentrates on treating the source of each patient's pain to produce the best pain relief possible. New patients may schedule with Dr. Said by calling (847) 519-4701.
Dr. Said has received awards for both his clinical skills as well as his devotion to patient care. He completed his anesthesiology residency at Rush University in Chicago where he received the Most Outstanding Resident Award. Dr. Said subsequently received the Most Outstanding Fellow Award while he was undergoing interventional pain management training at one of the most prestegious pain fellowships in the country, the Cleveland Clinic.
While Dr. Said offers both medical and interventional therapies for all types of pain conditions, his clinical interests include acute and chronic musculoskeletal pain, neuropathic pain, neuromodulation with spinal cord stimulation, and cancer pain.
Dr. Said joins Premier Pain Specialists, which is the largest, fully-fellowship trained private Chicago pain management practice in Illinois. With seven Chicago area locations that accept over 50 insurance plans, the practice strives to make patient care as effective and efficient as possible. Dr. Said's clinical expertise and compassion fit right in with the rest of the Board Certified, Fellowship Trained providers at the practice.
Said Dr. Arpan Patel, Premier Pain Specialists' co-founder, "We're thrilled to have Dr. Said as the newest member of our practice and believe he will be a great addition to the Schaumburg and Downers Grove offices. We're especially excited about his devotion to patient care and his reputation as a dedicated and thorough physician."
Dr. Said is currently accepting new patients at both the Schaumburg and Downer's Grove offices. Most insurances are accepted at Premier Pain Specialists including Workers Compensation and Personal Injury Liens along with Medicare and most PPO's. Call (847) 519-4701 for more information and scheduling with Dr. Said at the top Chicago pain center.