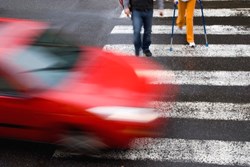 Chicago, IL (PRWEB) August 20, 2013
According to the National Highway Transportation Safety Transportation (NHTSA), there were a total of 4,432 deaths and 69,000 injuries related to "distracted walking" on roads. Distracted walking is an increasing phenomenon, and it means that pedestrians are walking alongside busy roads while listening to music, surfing the web on smart phones or while under the influence of drugs or alcohol. "These distracted behaviors cause pedestrians to tune out and focus on the distraction at hand, rather than the surrounding traffic or hazards in crossing busy streets" according to noted Chicago personal injury attorney, Jonathan Rosenfeld.
In particular, the NTHSA noted that consumption of alcohol poses one of the greatest risks to pedestrians walking in traffic areas. Recently released government data shows that 1,547 pedestrians of those killed in 2011 had a blood alcohol content of 0.08 or more that was above the legal limit for drivers. This accounts for over 35 percent of the total number of pedestrians killed in 2011 due to "distracted walking" behaviors. (See reference 1 below)
These statistics indicate that there may be a need for government intervention through the creation of new educational programs or enforcement measures. After releasing these statistics, the Department of Transportation has stated that it plans on creating an educational website for pedestrians entitled, "Everyone Is a Pedestrian." Grant money will also be available to cities that are struggling with this issue. (See reference 3 below)
There have also been other ways in which major cities have dealt with the issue of distracted walking. Some cities have placed visible decals along busy roads, while other cities like Salt Lake City have imposed fines. In Salt Lake City, pedestrians are subject to a $50 if they cross train tracks and are using electronic devices at the same time. (See reference 1 below)
Chicago has been ranked as one of the worst cities for distracted pedestrian behaviors. Pedestrian deaths are most likely to occur in areas urban areas with a high concentration of traffic and activity. Many pedestrian crashes also occur in daylight and in areas with speed limits of less than 40 mph. (See reference 2 below)
In the future, Chicagoans and pedestrians in other urban areas should follow the recommendations of the Department of Transportation. These tips include avoiding alcohol and drugs when walking, walking in areas that are predictable to drivers, walking on sidewalks when possible and being cautious when walking at nighttime suggests Chicago Personal Injury Attorney law firm.
The increase in the number of pedestrian fatalities due to intoxication has also raised concern in the legal community. These statistics may indicate the need for additional regulations aimed at prevention of pedestrian deaths due to intoxication. (See reference 1 below)
Company Information: For more information or assistance with personal injury cases that involve distracted pedestrian behaviors, visit: http://www.chicago-personal-injury-attorney.net. Illinois personal injury attorneys are prepared to represent your interests in a case involving negligence or an accident. If you have been involved in an accident involving distracted pedestrian behaviors, then get in touch with Chicago personal injury attorneys today.
Contact:
Chicago Personal Injury Attorney
476 Jackson Avenue
Glencoe IL, 60022
References:
1. Zak, Michael. (August 7, 2013). "Distracted Walking" Contributing to Rise in Pedestrian Deaths. AOL Autos. Retrieved from http://autos.aol.com/article/distracted-walking-pedestrian-deaths/.
2. Lowy, Joan. (August 5, 2013). "A Third of US Pedestrians Killed Had High Alcohol Levels, Gov't Data Shows." The Gazette. Retrieved from http://www.montrealgazette.com/news/third+pedestrians+killed+high+alcohol+levels+govt+data/8750577/story.html
3. Q & A Pedestrians. (May 2013). Highway Safety Research & Communications. Retrieved from http://www.iihs.org/research/qanda/pedestrians.aspx