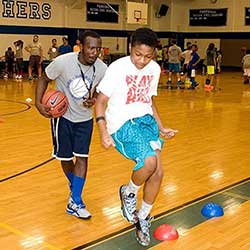 The city's passion for sports is unmatched and it starts at a young age.
San Rafael, CA (PRWEB) March 03, 2015
Chicago has long been known as a premier location for basketball talent. Global sports icon, Michael Jordan, brought a level of basketball to Chicago that the world had never seen before, and has yet to experience again since his Chicago Bulls days in the 1990's. His brilliance created a basketball frenzy in city that exists to this day. This era also witnessed the birth and rise of Nike Basketball as the premier global basketball brand. Due to this rich basketball culture, US Sports Camps seeks to meet an exceedingly high demand for quality basketball instruction in a competitive environment through the addition of several new Chicago Nike Basketball Camp locations.
2015 Nike Basketball Camp Locations and Dates in Illinois:
Holy Trinity High School, Boys: July 20-24 & Girls: July 27-31
Quest Multiplex (home of Attack Athletics): August 10-13 (co-ed)
Elmhurst College: June 21-24 (boys)
Harper College: August 3-7 (co-ed)
Lewis University: July 19-24 (co-ed)
"Chicago is an amazing place for youth athletics, especially basketball," states Justin Hoeveler, vice president of Basketball at US Sports Camps. "The city's passion for sports is unmatched and it starts at a young age. As a former basketball agent with Priority Sports (located in downtown Chicago), I am very familiar with the youth basketball scene and I know there is a need for more opportunities for individual skill development through a high quality camp. It is a pleasure to be able to bring Nike Basketball Camps to Chicago through the cooperation of great partners including Joel Green of Pro Level Training, Mehdi Belhassan of MBSC, Chris Martin of Elmhurst Men's Basketball and Reggie Brown of Priority Sports."
About US Sports Camps
US Sports Camps(USSC), headquartered in San Rafael, California, is America's largest sports camp network and the licensed operator of NIKE Sports Camps. The company has offered summer camps since 1975 with the same mission that defines it today: to shape a lifelong enjoyment of athletics through high quality sports education and skill enhancement.
Players, coaches, parents and others interested in the Nike Basketball Camps can visit http://www.ussportscamps.com or call 1-800-645-3226.