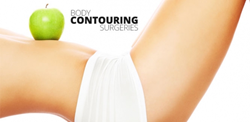 For years, I've been helping new mothers by way of 'mommy makeover procedures,' which are a series of body contouring procedures designed to help women return to their pre-pregnancy bodies
Chicago, IL (PRWEB) October 26, 2015
Over the past several years, board-certified cosmetic surgeon Dr. Anthony J. Geroulis has noted an interesting and steady trend at his outpatient surgical facility North Shore Center for Facial Plastic & Cosmetic Surgery: more and more patients are requesting body contouring procedures than ever before. However, in the past 45 day period starting Septenber 1st, 2015, the trend has shown a sharp increase for body augmentation procedures. Even more interesting is the fact that many of these patients are coming in for the same reason: massive weight loss.
"For years, I've been helping new mothers by way of 'mommy makeover procedures,' which are a series of body contouring procedures designed to help women return to their pre-pregnancy bodies," explains Dr. Geroulis. "While I still receive many of those requests, recently, I'm finding a whole new group of individuals wanting body contouring procedures, such as breast lifts and tummy tucks, due to massive weight loss, either by natural or surgical methods."
Dr. Geroulis' findings align with the national trend, as well. According to the American Society of Plastic Surgeons, in 2014, procedures specifically associated with weight loss, including tummy tucks and breast lifts, grew faster than they have in four years. More specifically, since the year 2000, the number of tummy tucks, also referred to abdominoplasties, performed has risen by a staggering 87% and the number of breast lifts by 75%. According to the American Society of Metabolic & Bariatric Surgery, 179,000 men and women in America underwent a massive weight loss procedure in 2013, which is the highest number since 2009. These two figures show a direct correlation with one another. Patients who undergo massive weight loss surgeries are often left with excess skin on the arms, thighs, stomach and breasts, which can be rectified by cosmetic body contouring procedures.
For more information about North Shore Center for Facial Plastic & Cosmetic Surgery, please call (866) 875-3937 or visit http://www.geroulis.com.
About Dr. Anthony J. Geroulis:
Bringing over 33 years of surgical and artistic experience to the field of facial plastic & cosmetic surgery, Anthony J. Geroulis, MD, FICS, has repeatedly been named a "Top Doctor" by U.S. News & World Report. Board certified in cosmetic surgery, author and active sculptor, Dr. Anthony Geroulis is a clinical professor of surgery at University of Chicago Medicine. His medical office is headquartered in Northfield, with offices in Chicago, at University of Chicago Medicine and at St. Alexius Medical Center in Hoffman Estates.