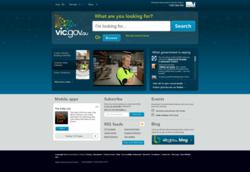 "The new site delivers higher quality government information and services more efficiently through the innovative use of ICT," Technology Minster Gordon Rich-Phillips said
Chicago, IL (PRWEB) July 10, 2013
The new Victorian Government website http://www.vic.gov.au is a part of an ongoing rebranding effort by the Victorian Government to address the changing landscape of the Internet and accommodate new and emerging online technologies and functionality.
The launch of the new website is one of the first deliverables of the new Victorian Government ICT strategy. Technology Minster Gordon Rich-Phillips said that an effective and contemporary online entry point to the Victorian Government, featuring a powerful and intuitive search, addresses some of the key drivers for changing the way government engages with the public. "The new site delivers higher quality government information and services more efficiently through the innovative use of ICT," Mr Rich-Phillips said.
The new Victorian Government website utilizes responsive design, so it will automatically adapt to various screen sizes to provide an optimal viewing experience. It also features enhanced search functionality that makes finding and using desired information more intuitive. In addition to the new smart-search function, Vic.gov.au includes a mobile apps directory that is directly linked to the appropriate app store and a new grants section that automatically aggregates information about all grants offered by the Victorian Government.
The new website features an interactive social media portal, which links to RSS feeds, and helps promote enhanced services and comprehensive resources and information to a wide range of Victorian users. Included in the social media platform will be an aggregated Twitter feed that will collect tweets from across the Victorian Government and display in a singular, live stream.
Mr Rich-Phillips said Victorians can easily use vic.gov.au on a smartphone and the new site is the most social media-friendly State Government site in Australia. "Victorians are the most active social media users in Australia. Seventy per cent of Victorians who use the Internet use social media, compared to a national average of 62 per cent – so it makes sense to provide information in a way that they want it," Mr Rich-Phillips said.
The redesigned website was a collaborative effort lead by Intechnic web development team, headquartered in Chicago, IL. Intechnic has worked closely with Information Victoria for many years, providing technical expertise across multiple Victorian Government agencies and improved functionality for Vic.gov.au through ongoing development and expansion efforts.
"Our goal for this project was to bring Vic.gov.au website to a whole new level," said Dmitry Andrejev, Vice President of Development at Intechnic. "This project involved complete website rebranding and various enhancements to both user experience and functionality throughout the website. Intechnic worked closely with Information Victoria, while leading several other key players involved in the development of this project."
Note: Access the Victorian Government's new website at http://www.vic.gov.au
Media Contact:
Grant Epstein
847-970-6190 ext.119
grant(at)intechnic.com
http://www.intechnic.com