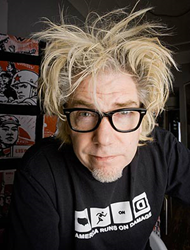 The Mattress Factory offers a perfect opportunity for a 'takeover' by my students. The ideas that they come up with to leverage the studio's business potential will be a test of how well they can implement their classroom experiences.
Chicago, IL (PRWEB) December 03, 2015
Martin Atkins, Music Business Department Chair at SAE Institute's Chicago campus, is allowing eight Associate Degree students in the school's Music Business Program to "take over" The Mattress Factory, his professional recording studio. The culminating project, which began at the beginning of November, will run through the end of the students' semester in late January.
"The Mattress Factory offers a perfect opportunity for a 'takeover' by my students," says Atkins. "The ideas that the students come up with to leverage the studio's business potential will be a test of how well they can implement their classroom experience in the real world. Their hands on experimentation will be their best education."
Atkins opened The Mattress Factory in 1992. The studio's equipment includes analog tape delays, spring reverbs, and vintage EQ units; full digital recording/mixing capabilities; and tape machines purchased from Grammy-nominated producer/engineer Steve Albini (Nirvana, Mogwai, Bush, Robert Plant and Jimmy Page). Projects that have been recorded in The Mattress Factory include albums by Gravity Kills, Pigface, the China Dub Soundsystem, The Damage Manual, and Chemlab - as well as Atkins' top selling Beat Fetish drum sound library for Cakewalk, a developer of digital music production products.
"One of the first things that the students are doing is studying fifty studios in the Chicago area so they can determine our competitive advantages," says Atkins, who'll be recording his series "The Martin Atkins Minute" for National Public Radio at The Mattress Factory. "They'll then reorganize how the business of The Mattress Factory is set up, which involves determining what our assets are, categorizing our inventory of master tapes and gear, trading equipment that's not useful or necessary, and seeking micro licenses for the 3,000 songs and master recordings in my catalog. They'll also survey the marketplace to find new opportunities and niches. Throughout the entire journey, they'll share and track their progress on social media."
The students who are participating in the "takeover" of The Mattress Factory set their own hours and their performance is graded. If their ideas yield new business opportunities for the studio, the students who envisioned and executed the revenue-generated concepts will be hired to further maintain and develop them.
"The energetic self-starters are immediately hirable, but the students who are more meticulous and process-oriented are valuable, too," says Atkins. "Both of these types of employees - the visionaries and the functionaries - are in demand among companies in the business of music, and I'm looking to give the most talented ones a chance as they begin their careers"
About SAE
SAE Institute provides aspiring creative media professionals with a foundation of practical theory and valuable hands-on training in their chosen areas of concentration. Under the guidance of our faculty, which is comprised of working industry professionals, students gain the essential experience they need for entry-level jobs in the entertainment business. Our students are supported in their job searches by SAE's international network of alumni, many of whom are leaders in the music, film, game arts, and live performance arenas. We offer programs in audio technology across our seven US campuses, along with a music business program at select locations, all fully accredited and focused on preparing students for employment when they graduate. Bachelor's Degree programs in Animation, Audio, Film, Game Art & Graphic Design are available at the two locations of Ex'pression College, which is owned and operated by SAE Institute Group, Inc. SAE Institute Group, Inc. is a part of Navitas LTD. Learn more at USA.sae.edu.
About Navitas
Navitas is an Australian global education leader, providing pre-university and university programs, English language courses, migrant education and settlement services, creative media education, student recruitment, professional development, and corporate training services to more than 80,000 students across a network of over 100 colleges and campuses in 31 countries. Learn more at Navitas.com.