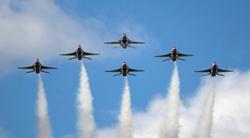 Chicago Hotels like Hotel Blake will welcome some of the big shots in the pilot world during the 57th annual Chicago Air & Water Show. . Hotel Blake has special offers to welcome visitors who come for this and other top Chicago events.
Chicago, IL (PRWEB) July 31, 2015
Chicago Hotels like Hotel Blake will welcome some of the big shots in the pilot world during the 57th annual Chicago Air & Water Show. Attendees will see amazing aerobatic aerial displays and much more during this popular Chicago event. Hotel Blake has impressive special offers to welcome those who come from out of town for this and other top events. View offer details >
Chicago Air & Water Show
August 15 through August 16, 2015
North Avenue Beach
This Chicago Event is a hit with all ages, and both young and old make their way to North Beach to watch as talented pilots perform aerobatics while flying in formation, and to see other exciting feats, such as those performed by parachute teams. When it comes to daredevil pilots, the U.S. Navy Blue Angels are the most well-known. The Blue Angels will be on hand, showing off their newest moves, and leaving quite an impression on young visitors.
In addition to the Blue Angels, many other aerial aerobatics teams will perform at this Chicago event. Civilian teams such as Breitling Jet Team, and the 12-plane Team Aerodynamix will wow the crowd. The aerobatics are not the only exciting thing to see at the Chicago Air & Water Show. Performances by parachute teams, including U.S. Navy Parachute Team Leap Frogs, and U.S. Army Parachute Team Golden Knights, will also be highlights of the event.
The Chicago Fire Department Air and Sea Rescue Team and the U.S. Coast Guard will demonstrate how much work and skill are involved in performing water rescues. Water-skiing and boat jumping are some of the other types of performances attendees will enjoy at this Chicago event.
Attendees can reach the event via public transportation or car. Parking is available in a nearby garage, and free shuttles are provided from the garage to North Avenue Beach. This event is popular with both locals and guests at Chicago hotels, and it is the largest free airshow in the country. Those coming from out of town should make reservations in advance as some hotels may book up due to the popularity of this event. For Hotel Blake, visitors can Check Rates and Make Reservations online or call 312.986.1234.
About Hotel Blake – A Chicago Hotel:
Ideally located in the heart of historic Printer's Row sits Hotel Blake – a boutique Chicago Hotel. The 19th century former Morton and Duplicator building is now home to 162 beautiful Guest Rooms and Suites offered at Hotel Blake.
Whether visiting Chicago for business or pleasure, Hotel Blake offers upscale Chicago Accommodations along with impeccable service. Some believe, 'location is everything'. This makes Hotel Blake an ideal choice! Our Chicago Hotel is located downtown in the heart of Chicago's historic Printer's Row. Take a short walk to State Street, enjoy Grant Park, explore the many fine Chicago Museums, or indulge in a fine dining experience at one of the many nearby Chicago Restaurants
When visitors choose Hotel Blake, they will enjoy a long list of Hotel Amenities that will set a stay at our Chicago Hotel apart. Enjoy our 24-hour Fitness Center, or get a bit of work done in the quiet and convenience of our 24-hour Business Center. Enjoy a meal in our onsite Chicago Restaurant, Meli Café, or opt for the convenience of Room Service.
Relax in a comfortable, beautifully-decorated room. Get a good night's sleep on impossibly soft Egyptian linens. Wash the stress away by standing under a rainfall showerhead. Guests can enjoy a meal in our Meli Café, or order Room Service and take breakfast, lunch, or dinner in their room.
View the Hotel Blake Website.
Visiting Chicago? Consider Hotel Blake. Check Rates, Make Reservations, or call: 312.986.1234.