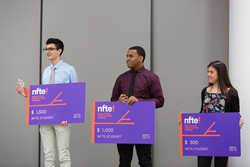 CHICAGO (PRWEB) May 30, 2019
Three young entrepreneurs from area high schools won top honors in the NFTE (Network For Teaching Entrepreneurship) Chicago Metro Youth Entrepreneurship Challenge held at Shirley Ryan AbilityLab on May 21.
The students pitched their business ideas to a panel of expert judges, competing for cash prizes and a free trip to New York City this fall to represent the Chicago region in the next round of nationwide competition. The first and second place winners at the Chicago regional finals now advance to the quarterfinal rounds of NFTE's National Youth Entrepreneurship Challenge, where they'll go head-to-head with other top young entrepreneurs from across the U.S., competing for seed capital to grow their businesses or pursue educational goals.
The results of the Chicago Metro regional finals:

Gabriel Sheikh, a junior from Holy Trinity High School, took first place with the business pitch for Presistant, a sophisticated self-improvement app for those looking to improve their presentation skills. By using a mobile phone's existing features and the app's software, anyone can measure their skills and improve as a presenter.
Aaron Trinidiad, a junior from Holy Trinity High School, took second place with a pitch for Lender, an app that pairs nonprofit organizations with volunteers. Combining a Tinder-like interface with volunteering opportunities makes for an easy-to-use and fun app that pairs users with nonprofit organizations seeking volunteers based on interests.
Jennifer Rios, a junior at Holy Trinity High School, took third place for a pitch for Smarty Pants, an eco-friendly cloth smart diaper. Fitted with wireless sensors, it alerts a caregiver when a diaper is full, whether the baby is wet or dirty, and helps to prevent diaper rash. The info is sent through the Smarty Pants app, allowing a caregiver to keep track of the results and even share with a pediatrician.
Student business pitches were judged by a panel of experts that included:

Andrea Brands, Director, Corporate Social Responsibility, AT&T
Justin Odenbach, General Manager, Slalom Chicago
Zohra Damani, Program and Employee, EY
Brian Smith, Vice President of Sales, SAP North America
Three special awards were presented during the evening event:

Bernadette Medina of the Aspira Business and Finance School was awarded the NFTE Chicago Metro Model Teacher Challenge Award. Medina now advances to the next round of national competition in the Model Teacher Challenge.
LIVONGO was honored with the NFTE Chicago Metro Corporate Volunteer of the Year Award.
Alexander Van Atta of Slalom Chicago was honored with the NFTE Chicago Metro Individual Volunteer of the Year Award.
The NFTE Chicago Metro Youth Entrepreneurship Challenge was presented by Ernst & Young, LLP (EY), Microsoft and Slalom with additional support from Citi Foundation, and WeWork. The evening event was emceed by Danny Gray, a veteran educator and the winner of the NFTE Chicago Metro Model Teacher Challenge Award in 2018.
About NFTE
NFTE is the leading educational nonprofit focused on teaching startup skills and activating the entrepreneurial mindset in young people from under-resourced communities. Research shows the entrepreneurial mindset—skills including problem-solving, adaptability, initiative, and self-reliance—leads to lifelong success. Equipped with the business and academic skills NFTE teaches and empowered by the entrepreneurial mindset, NFTE alumni are prepared to thrive. NFTE works with schools and community partners across the country through its nationwide network of program offices. Alliances with global youth development organizations bring NFTE programs to additional students internationally. NFTE reaches more than 100,000 young people annually and has served well over a million students since its founding. Learn more at http://www.nfte.com.
Media Contact
Ashley Johnson
mediainquiries(at)nfte.com
(212) 232-3333