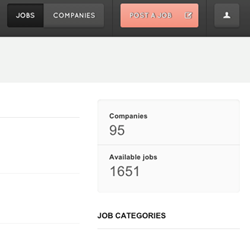 I think the most important message I want Chicago to remember is that We are one of the few free job posting websites for employers that have no hidden costs, said Mr Coldwell of Chicago-Job-Board.com
Chicago, Illinois (PRWEB UK) 22 February 2015
American Job Boards (AJB), the operator of the next generation of job boards for US metros is pleased to announce the launch of its flagship jobsite, Chicago Job Board, serving jobseekers and employers in the Greater Chicago area. "The site has been operating for a few months now with great success", says Steven Coldwell, head of development. "We have gone through several iterations in the creation of the website. We put usability and functionality at the forefront, keeping design and visual effects intentionally on the back-burner. We wanted a jobsite that is simple and easy to use for both employers and jobseekers." he added.
The job board is general purpose, with no particular focus on any industry niche. That said, its strength lies in serving the hospitality, leisure and food industries' need for talent very well. As a result of its present set of job vacancies on the site,recruiting for chefs, cooks, dishwashers, maids, food servers and similar positions, Chicago-Job-Board.com attracts a significant number of applicants who are keen to work in hotels, restaurants and other organizations serving the Chicago community food and drinks.
American Job Boards is set to launch a series of job-sites in the US based on the premise that most candidates have rather limited flexibility in terms of location. Too much travel or relocation make otherwise very attractive job offers unacceptable for most jobseekers. Therefore a job-search site should serve local communities, such as the greater Chicago metropolitan area in this case, and provide them with a wide range of vacancies to apply for.
"We are still refining the business logic in our jobsite to provide candidates with the best possible user experience: a job-search that yields the most relevant results instantly; and an application process that is quick and smooth," adds Mr. Coldwell. He also emphasized that AJB is looking to provide small businesses with an easy to use facility that enables employers to post job ads once that are then syndicated across the entire network of job boards, showing up in the relevant sections everywhere. This would truly empower hiring managers by providing them access to a larger pool of candidates than they would otherwise be able to reach. "One of the most time-consuming and expensive elements of the recruitment process is posting job-ads far and wide to extend your candidate pool. We at AJB make it our job to make this quick and easy, at highly competitive prices," said Mr. Coldwell.