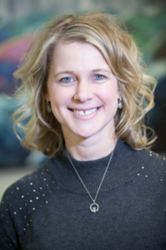 The entire Discovery family is proud of Robyn's receipt of this prestigious award. We'll likewise acknowledge her professional expertise as well as compassionate commitment to individuals and families who are battling an eating disorder
Chicago,IL (PRWEB) November 10, 2016
November 9, 2016
Center For Discovery, a national leader in behavioral health treatment, is pleased to announce the celebration of Robyn Welk-Richards PhD, MSW, LCSW, CEDS acceptance of the Chicago Spirit Recognition Award. These awards recognize outstanding professionals for years of dedicated service to others. The Spirit Recognition Award honors specialists that have helped clients with eating disorders, chemical dependency, or mental health issues. Past honorees have included some of the country's most respected leaders in the behavioral health field.
As a Regional Director for Center For Discovery, Dr. Welk-Richards oversees the growth and clinical development of all east coast and midwest residential treatment programs. She sees the award as a tribute to her talented team at Center For Discovery. "I feel validated by the process that our organization goes through to ensure that effective clinical care is the number one priority," she said. "I'm very enthusiastic about my position and everything that Center For Discovery has to offer its clients. We all share a united goal: to help individuals and families find healing from their struggles to overcome their eating disorder. Recovery is attainable and it is a clinician's responsibility to provide a safe space for clients to move toward it. My philosophy is that every client needs to be approached with compassion and creativity."
Mark Hobbins, President and COO of Center For Discovery, adds, "We are so happy to have Robyn's extensive eating disorder expertise to help our clients and families achieve long-term recovery. The entire Discovery family is proud of Robyn's receipt of this prestigious award. We'll likewise acknowledge her professional expertise as well as compassionate commitment to individuals and families who are battling an eating disorder."
A former Peace Corps volunteer, manager for the Ronald McDonald Charities, and fundraiser for the Children's Hospital Network, Dr. Welk-Richards' energy and passion are evident in everything she does. She has been specializing in the treatment of eating disorders for more than a decade. After obtaining her PhD in Clinical Social Work in 2012 from Loyola University Chicago, where she focused her research studies on the treatment of eating disorders, Dr. Welk-Richards devoted herself to understanding the positive impact that residential treatment for eating disorders can have in improving an individual's quality of life.
Intensive training in Dialectical Behavior Therapy provided Dr. Welk-Richards with a solid clinical foundation in treating adolescents and helping them discover healthy alternatives to their eating disorder lifestyles, Dr. Welk-Richards has also participated in several significant research projects and she is recognized nationwide as a thought leader in the eating disorder community. She is often invited to speak about the treatment of eating disorders at local and national events.
Please join us in honoring the selected peers who have made a significant contribution to our community.
Center For Discovery has been helping adolescents, teens and adults find their way to lifelong recovery for nearly 20 years. All Center For Discovery locations provide individualized eating disorder, mental health, or dual diagnosis treatment that are designed to help clients learn the practical coping skills and knowledge that is necessary for long-term change and recovery. Every Center For Discovery location is state licensed and JCAHO accredited.
For more information about Center For Discovery programs, or Dr. Welk-Richards, please call 866-339-2669. Email us at corporatenews(at)centerfordiscovery(dot)com or visit our website at http://www.CenterforDiscovery.com.