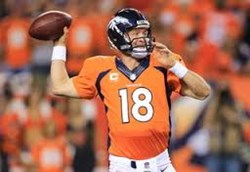 (PRWEB) November 15, 2013
Next weekend, two of the best teams in the NFL, and AFC West rivals, will be facing off against each other in a game that no football fan should miss.
The surprisingly undefeated Chiefs will travel to Mile High stadium in Colorado to take on the 8-1 Broncos, and try to make it out alive to boast a 10-0 season. If not, they will fall to 9-1 and the Broncos will take over first place.
The Broncos showing off one of the best offenses in NFL history this year, and so far only the Colts were able to stop them. Quarterback Peyton Manning for the Broncos is ridiculously accurate, and arguably the best quarterback in the league this year. His targets are also insanely talented, making his job a little easier. The Chiefs are going to have to jump on any and all mistakes, big or small, that the Broncos make on defense to capitalize. Look out fans, its going to be a long, hard fought game on both ends.
Although Peyton played the entire game this past Sunday, and led his team to a 28-20 victory over the San Diego Chargers, he may have been hurt in the process. He was hit a lot in the contest, specifically the lower body. The star will be getting an MRI to make sure the injuries are nothing critical, and to make sure he can return to the field next weekend. The Broncos will, unfortunately for Manning, be facing the league's leader in sacks. Although it is not confirmed yet, Manning does plan on playing in the game.
The Kansas City Chiefs are coming off a bye week when facing the mighty Broncos. While the Broncos played the Chargers and Manning was getting beat up left and right, the Chiefs were relaxing their muscles and getting ready to destroy Denver.
The Chiefs are the only unbeaten team in the NFL, and are having a famous year. Last year, the team was just 2-14, tying the Jaguars for the worst record of the season. So far this year, the Chiefs have played some pretty good teams, but nothing of the likes of the Broncos. Furthermore, the second half of their season is significantly harder than the first half, so they may not know what is coming. For the Broncos on the other hand, they have already faced a better NFL team, although that did give them their one loss.
NFL fans that want to attend this extreme matchup can purchase tickets at http://www.Ticketmonster.com. Ticket Monster is the best spot on the web for customers to obtain their NFL football tickets. Broncos tickets are sold here, as well as Chiefs tickets and the rest of the NFL teams. The site also features a daily blog and social media hub for fans to interact and engage with others. Visit the site today, or call 866-217-4777 for more detail.