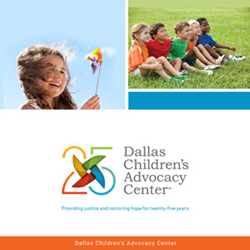 The DCAC provides two invaluable services to our community: helping to ensure that child abusers pay for their crimes, and providing top notch therapy and counseling to children who have been abused
Flower Mound, TX (PRWEB) August 18, 2016
Dusty Wallace Insurance, a family operated insurance and financial planning firm that provides coverage to businesses and families throughout eastern Texas, is teaming up with the Dallas Children's Advocacy Center in a charity drive to provide assistance to children struggling to overcome abuse.
The Dallas Children's Advocacy Center is a nonprofit organization that fights for the rights of abused children and works with multiple public and private agencies to ensure the swift conviction of child abusers. Utilizing a multidisciplinary approach, DCAC works to eliminate barriers to investigation and increase the conviction rate of child abusers while implementing modern therapy programs to assist abuse victims.
"The DCAC provides two invaluable services to our community: helping to ensure that child abusers pay for their crimes, and providing top notch therapy and counseling to children who have been abused," says Dusty Wallace, founder and director of Dusty Wallace Insurance.
In an effort to publicize the Dallas Children's Advocacy Center charity event and draw in donations for the cause from communities throughout Texas, Wallace and his team are using social media and email to share up to date information with supporters. As well, Dusty Wallace Insurance will be producing a feature article on the charity drive for publication in the next edition of the firm's webzine "Our Hometown": http://www.dustywallaceinsurance.com/Our-Hometown-Magazine_32.
Over the last year and a half, Dusty Wallace Insurance has assisted nearly a dozen charitable causes in Texas as part of an ongoing community involvement program called "Agents of Change." In the future, Wallace and his team plan to find and work with another local charity or nonprofit every sixty days.
Dusty Wallace Insurance invites all readers who wish to take part in the charity drive to support the Dallas Children's Advocacy Center to visit the following page and take action to support the cause: http://www.dustywallaceinsurance.com/Helping-Kids-Recover-From-Abuse_25_community_cause. Additional information on charities and nonprofit organizations previously supported by Dusty Wallace Insurance can be found on the agency's Community Causes page: http://www.dustywallaceinsurance.com/community-cause?page=1.
About Dusty Wallace Insurance
Serving from their office in Flower Mound, TX, Dusty Wallace Insurance is committed to bringing local communities an insurance agency that understands their needs. Dusty Wallace Insurance works with carriers to assemble a variety of products and services for its customers, including products a typical consumer needs (home, auto, boat, ATV, etc.), financial services products and tools (retirement, savings, long term care, disability, etc.), business insurance (liability, building, auto), and workplace and individual benefits (accident, critical illness, cancer, disability, life). Dusty Wallace Insurance covers all the bases for insurance needs in the Central Texas area. To speak with a helpful representative from Dusty Wallace Insurance, call (972) 539-7162.