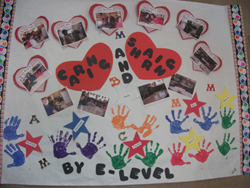 San Francisco, CA (PRWEB) December 10, 2013
Mother Goose School will present three holiday shows during the month of December, as part of the month's theme of "caring and sharing." The shows will take place at 10 a.m. Monday, Dec. 16, and 10 a.m. and 2:30 p.m. Thursday, Dec. 19. Parents are invited to attend a series of music performances led by the children and facilitated by the school's music teacher, Ms. Andrea. The music program at Mother Goose School provides children a rich, multi-faceted experience that involves song, movement, harmony, and some "light" instruments. Mother Goose School children have music class every Tuesday and Friday throughout the year.
This month's caring and sharing theme helps children to develop these areas by exploring what it means to have empathy, to help and assist, to nurture, to understand what it means to give and receive, and to treat each other with kindness and respect. The month's activities are primarily focused on finding ways the children can support friends in developmentally-appropriate ways. These practical life-skills help ensure that students are successful in their transition into kindergarten. Practice and application of caring and sharing activities and skills increases self-confidence, strengthens problem-solving skills, and helps children form stronger friendships. Friendship is all about caring and sharing.
For more information about the holiday shows or the school, visit http://mothergooseschool-sf.com, or call 415-424-4839.
About the Company:
Mother Goose School has been serving the child care needs of families of San Francisco and the Bay Area as a day care and preschool facility since 1951. Mother Goose School is open to all children between the ages of 2 and 6. The primary focus of the school is to instill in each child a lifelong enjoyment of the learning process. The school is comprised of five developmental levels ranging from nursery through kindergarten age. Mother Goose School is open 7 a.m. to 6 p.m., Monday through Friday. They prepare and serve a hot, well-balanced lunch each day, as well as a nutritious mid-morning and mid-afternoon snack.
Mother Goose School believes that the development of the child's mind, body and character are equally important. In order to educate the whole child, their daily program includes instruction that is based on a balanced, all-inclusive curriculum. This preschool curriculum is specifically intended to provide a firm foundation for each child in preparation for any public or private school. The daily program at Mother Goose School includes academics, art and crafts, physical education and social skills. Music instruction is shared with morning classes twice weekly. Classrooms are equipped with child-friendly music. They also offer toilet training in their nursery program and a naptime every afternoon.
For more information, please visit their website at http://www.mothergooseschool-sf.com, or call them at (415) 424-4839. They tour prospective parents with their children daily at 10 a.m. and 3 p.m.