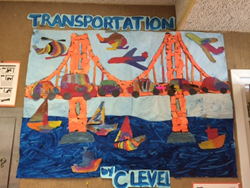 San Francisco, CA (PRWEB) June 06, 2014
Parents recently attended Mother Goose School's semi-yearly Parent Night. This semi-yearly event was a fun and festive evening, where parents were free to mingle and chat with each other and their child's teachers. The "Goose" featured champagne and parents sampled small plates representing lunch created by the school chef.
Dana Hemberger, owner of Mother Goose School stated, "Participation was the highest it has ever been. Parents had a wonderful time getting to know each other better and talking with our staff. The classrooms displayed the children's efforts in math, social studies, arts and early literacy."
Parents said, "We really appreciate the work the school does."
Mother Goose School also hosted a multicultural event which had a record turnout. Families raved about the musical productions, which included props, dances and songs. The school applauds their talented young performers.
Transportation is this month's theme at San Francisco's Mother Goose School. During June, students at the Goose will learn about the different methods that people use to move about the city, state and the country.
San Francisco has a unique assortment of transportation, including cable cars, BART, taxi cabs, ferries and streetcars. In addition, children will also discuss different means of moving around, including wheelchairs, bikes, roller-blades, scooters, planes and boats.
June will also bring Father's Day, where children will assemble a special craft and card to help celebrate their fathers.
About the school:
Mother Goose School has been serving the child care needs of families of San Francisco and the Bay Area as a day care and preschool facility since 1951. Mother Goose School is open to all children between the ages of 2 and 6. The primary focus of the school is to instill in each child a lifelong enjoyment of the learning process. The school is comprised of five developmental levels ranging from nursery through kindergarten age. Mother Goose School is open 7 a.m. to 6 p.m. Monday through Friday. They prepare and serve a hot, well-balanced lunch each day, as well as a nutritious mid-morning and mid-afternoon snack.