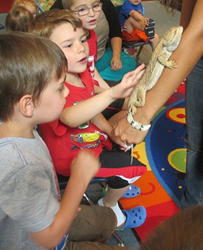 Williamsville, NY (PRWEB) August 18, 2014
Country Park Child Care is always looking for new, exciting, unique, educational and interactive experiences, and the summertime is no exception. Recently, Country Park students had an amazing amphibious experience with the Croc Encounters program.
Croc Encounters is a unique and unforgettable educational program for any age. The program included a knowledgeable instructor who brought a variety of live animals, including alligators, crocodiles, snakes, lizards, turtles, tortoises and amphibians. The hands-on presentation was very educational and exciting. Children even had the rare opportunity to touch various species if they wanted! Everyone enjoyed this amazing experience!
Country Park always likes to end the summer with a bang. Every year, they have a Carnival Day as the summer is winding down for one last hoorah. The children love getting their faces painted; they can turn into anything from a butterfly to a monster! There are many fun activities at the carnival, including a bounce house for everyone to have a ball and bounce around! The kids have an amazing, fun-filled day and will come home exhausted.
Not only does Country Park love summertime fun, but they also strive to offer new and creative learning opportunities to children all year long. They have many different activities throughout the year that include visits from the fire department, art shows, ice cream socials, dress up days, visits from the dentist, cooking classes, science week, gymnastic classes, visits from the Buffalo Zoo, puppet parties, visits from the library, soccer days, music and movement days and even visits from Santa! They also love celebrating all holidays, including St. Patrick's Day, Christmas, Easter and many more!
Parents are always welcome and encouraged to visit their child at Country Park at any time throughout the day to check in, say "hello" and see how their child is doing.
Country Park Child Care is always enrolling new children, and is currently enrolling for the 2014-15 school year, but hurry because spaces are limited! New families that enroll with Country Park can still receive an enrollment discount of 50 percent off the registration fee, a $49.50 value! Check out their website for more details on the offer and for a copy of the coupon!
For more information, please call 716-626-9039 or e-mail director(at)countrypark(dot)com to set up a tour today! There is also virtual tour on their website, http://www.countrypark.com.
About the company:
Country Park Child Care was established in 1990 by Linda Clark. Clark wanted to implement her philosophy on early childhood education, which was a comprehensive and nurturing plan for high-quality child care. She took the time to ensure that she had a safe environment, a professional and highly-trained staff to be proud of, an environment fulfilling to both, parents and children, balanced educational programs, superb hygiene including bathroom and diaper procedures, immaculate housekeeping, an odor-free environment, top-notch hands-on creative lesson plans and attention to table manners.
Clark also encourages parents to get involved in the program by sharing any pertinent information, books, songs and videos, cultural and other materials that are relevant to Country Park's activities. She feels strongly that parent/teacher communication is vital to a child's growth and development. Over the years, Country Park has received many complimentary comments from the parents of the children entrusted to their care. For those interested in entrusting Country Park with the care of their child, those comments may be interesting to see.
Clark wants each parent to be absolutely confident when they leave their child in the care of the staff at Country Park that their child will be safe, happy and given the opportunity to explore and participate in a fulfilling day of educational, hands-on fun. Country Park Child Care offers day care and preschool programs. For more information please visit, http://www.countrypark.com/.