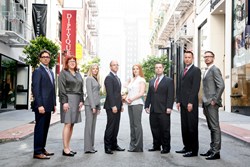 San Francisco, CA (PRWEB) August 01, 2013
Heath-Newton LLP attorneys Robert Kamin and Sarah Arnott co-chaired the family law section of the Barristers Club's "What San Francisco Family Court Judges Want New Attorneys to Know" event on July 15 at San Francisco Superior Court. The event included four judges who were guest speakers and discussed the intricacies of family law and family court.
The Barristers Club is comprised of members of The Bar Association of San Francisco who are in their first 10 years of practice. The family law section seeks to promote camaraderie among those who practice family law by holding regular meetings and social events. Kamin and Arnott are co-chairs of the section.
The July 15 event featured an introduction to the judicial officers of the San Francisco Unified Family Court, including the recently assigned judges. The four speakers were Supervising Judge Hon. Charlotte Walter Woolard, Hon. Michael I. Begert, Hon. Julie Tang and Hon. Linda Colfax. They gave judicial impressions and views for newer family law attorneys as well as the dos and don'ts for family court appearances. The judges also held a question and answer session after the presentation.
Heath-Newton LLP is a San Francisco family law firm that includes some of the most respected names in their fields of specialty. They work with clients to craft a legal plan designed to achieve their goals and minimize the emotional stress and conflict present in many legal disputes. Visit their website to find out more about the professional family lawyers at Heath-Newton LLP.
About the Company:
At Heath-Newton LLP, they specialize in family law, asset protection and estate planning services. Based in San Francisco, their boutique firm has earned a reputation for managing their clients' cases well, reaching successful resolutions, and minimizing costs and disruption to their clients' lives.
They have handled a long list of family law cases, including a broad range of issues facing new families (such as domestic partnerships, premarital agreements, adoption and more), as well as divorce mediation, asset division, child custody and child and spouse support. They also have extensive experience in estate planning, wills, probate, mediation, living wills and trusts.
Collectively, their attorneys have thousands of hours of experience, allowing them to be both efficient and effective. They are guided by a practical approach that emphasizes avoiding litigation to minimize costs and disruption; however, they can and will be fierce litigators when all other strategies have proven ineffective. For more information on their divorce lawyers, please visit their website at http://www.heathnewton.com. To discuss a situation with one of their divorce attorneys, please call them at (415) 398-1290.