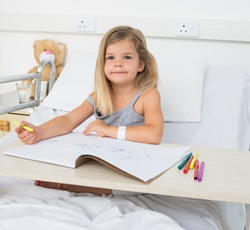 "Cleveland Children's Clinic has always been on the forefront of treating young patients, and this charity drive will help them continue to do what they do best.
Cleveland, OH (PRWEB) September 25, 2015
The Westshore Agency, a locally owned insurance firm with offices that serve Bay Village and the surrounding communities, is announcing a new charity drive aimed at providing children who are receiving treatment at the Cleveland Clinic Childrens with the materials they need to create medical scrapbooks.
Medical scrapbooking is an innovative program instituted by the Child Life Specialists at Cleveland Clinic Childrens, and is designed to provide children who are undergoing critical or extended procedures with a fun and creative way to process their experiences. Coping with hospital surroundings and the discomfort of treatment or surgery can be difficult for young children, and scrapbooking provides a natural outlet. These scrapbooks are especially dear to the families of terminally ill children since they create a lasting memory of their loved one.
"Cleveland Clinic Childrens has always been on the forefront of treating young patients, and this charity drive will help them continue to do what they do best," says Greg Brawner, owner and manager of the Westshore Agency. "I feel strongly that our community should do everything possible to help these children and their families find peace and comfort during an extremely difficult time."
Mobilizing a network of personal and professional contacts, Brawner and his team are reaching out to community members in and around Cleveland to gather support for the medical scrapbooking project at Cleveland Clinic Childrens. Efforts are underway to build an online social media portal that the team hopes will draw in even more support from families throughout Ohio and across the nation.
The Westshore Agency isn't stopping with Cleveland Children's, and has recently announced an ongoing community involvement campaign. "We call it 'Agents of Change,' and we're going to be helping at least one new charity every two months from here forward," explains Brawner.
Readers who wish to assist the Westshore Agency as they support the medical scrapbooking project for patients at Cleveland Clinic Childrens are encouraged to stop by the Westshore Agency website and make a personal contribution here: http://thewestshoreagency.com/Help-Sick-Kids-Create-Beautiful-Memories_5_community_cause. Readers who wish to keep track of the new charities supported by the Westshore Agency are invited to bookmark their Community Causes page, here: http://thewestshoreagency.com/community-cause.
About Westshore Agency
The Westshore Agency team ensures the ongoing protection needs of hundreds of families. We can help you protect the things that are important to you – your family, home, car, boat, and more. Westshore also offers a wide range of financial services that can help you secure your future and the future of your loved ones. The Westshore Agency is committed to earning the business of new clients by forging earnest relationships, providing superior service, and offering real world information about the insurance mechanisms best suited to your needs. Whatever you need protected, Westshore has you covered. To speak with a knowledgeable Westshore representative, browse to http://www.thewestshoreagency.com/ or call 440-892-1700.