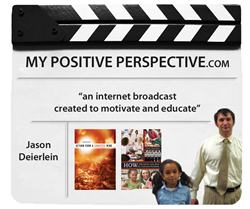 Children never do anything wrong to deserve this, they are victims of the circumstance.
Charleston, SC (PRWEB) July 23, 2014
On July 21, 2014, My Positive Perspective host Jason Deierlein was joined by childhood safety advocate Jack Tracey for an episode that spoke about the group Darkness to Light. At the start of the episode, Deierlein asks Tracey to talk some about the formation of the group, Tracey says, "Darkness to Light is international in its mission, it was started right here in Charleston, originally it was called From Darkness to Light; and initially it was to help survivors of sexual abuse. Their purpose has shifted to educating responsible adults how to prevent childhood sexual abuse."
Deierlein then says, "A really tough topic to deal with but if we ignore it, the consequences get so much worse. Coming to terms with what happened is the first step in putting this behind them so they can live a normal, happy life." Tracey then says, "It's like being burned, no one burn is exactly alike and it does take time for that pain to go away, but the severity of the burn is unique in every case." Tracey continues, "What the mission is now is how to recognize the symptoms such as isolation and/or a dramatic shift in behavior."
Tracey concludes the episode by saying, "This is such a hard thing to tackle because the individuals that have been exposed very rarely talk about it. It is the job of adults to ensure the safety of our children. They never do anything wrong to deserve this, they are just victims of the circumstance.
My Positive Perspective is a media outlet believing that improvement in our community will be best achieved by focusing on the good things happening in our world today. Having survived a near fatal car accident as a youth, a shift of perception forced one to have a mentality of always concentrating on the brighter sides of things. This was true, and in my book, Return From a Comatose Mind, this belief was put to the test. Appreciation for life was the biggest thing one took away from my brush with death, and it is because of that gives me such a huge desire to be helpful to many. My Positive Perspective is a way of overcoming challenges through positive thinking.