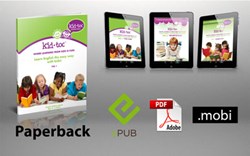 Of all our clients, ranging from Fortune 500 brands to innovative start-ups around the world, Kid Toc has been one of the most creative solutions to learning English on a global scale. -Josh Bois, Co-Founder Global Good Networks
New York, NY (PRWEB) October 15, 2013
Kid Toc®, an Ed-Tech (Educational Technology) start-up founded by a group of children along with a seasoned entrepreneur, is a revolutionary new online method of learning English. This week, the company announced the launch of its free Read-Along video portal.
With more students enrolling in online courses, the Internet has become a viable way for people to learn English. According to Internet World Statistics there is over 565 million English users on the Internet, a large market for English learning products like Kid Toc ®.
Children are also utilizing digital tools when studying various subjects. This especially applies to learning English, the world's most common communication platform. According to the British Council "Speakers of English as a second language probably outnumber those who speak it as a first language."
As a leader in peer-to-peer learning and winner of the 2013 TED award, Professor Sugata Mitra's experimental "Hole in the Wall" project demonstrates, "even in the absence of any direct input from a teacher, an environment that stimulates curiosity can cause learning through self-instruction and peer-shared knowledge." This type of environment is exactly what Kid Toc ® provides - kids learning from each other - making it easier to focus and learn.
HOW Kid Toc® Works:
User has a choice of any four eBooks with videos and lessons for $9.99 unlimited use.
A custom, digital, 4-level original course with 4 eBooks, including 20 short stories with matching videos and lessons, with a total of over 600 questions and answers.
STEP 1. eBOOKS: User may download and view eBook on any internet device such as: PC/MAC, Kindle, Sony and others capable of reading eBooks (PDF – MOBI - PUB) (paperback optional)
STEP 2. VIDEOS: User follows along with Kid Teachers reading the matching video story with subtitles.
STEP 3. eLESSONS: User takes the fun online with interactive lessons.
Free Features:
Read-Along English Poems – child-authored poems, with audio for read-along
Read-Along Videos – follow the stories with the kids, including subtitles
Toc Blog – follow the kids as they post their interests
Social Media – Facebook, Twitter, Pinterest, Instagram- keep up with the kids
Try the Kid Toc® English Learning Demo
"Being a teacher and speaking four languages, I found Kid Toc® to be such an easy and entertaining way for kids to learn a language. It's a completely new concept compared to the traditional ways of teaching, and I just love it! Kid Toc® retains the children's attention, which is usually the hardest thing to do when trying to teach a language. What I enjoyed most about Kid Toc® were the lessons! They are so easy to follow and have been designed like a game, so that kids can enjoy while they learn. I recommend it!"
-Angela Funes, Professor - Junta De Andalucia – Government of Spain
Spanning over two decades in private business and holding an MBA and Psychology degree, co-founder Jasmine Basha has created an entirely new business product in a demanding marketplace. However, none of it would have been possible without the 5 kids who are also co-founders of the company. They have provided critical guidance and relevant feedback on children's user experience and story content.
The founding team claims their biggest difference compared to other English learning products is the absence of adults on their website! There are only kids. You only see and hear the kid teachers throughout the entire program – in each video, lesson, answer and question. This revolutionary approach is unique to Kid Toc®.
"Kid Toc® works for kids because it's made by kids for kids. We know exactly what kids want, because we are kids." - Julia – Kid Toc®.
Kid Toc® launched its complete program this year and has had an outpouring of positive response. They are currently working on an early learners app for toddlers called 'Kiddie Toc'. Watch for Kid Toc®, as they continue to impress the ever-growing language learning marketplace.
Whether you are a child or adult native English speaker or learning English as a Second Language (ESL), Kid Toc® makes learning English easy and fun - the natural way.
###
About Kid Toc® - http://KidToc.com
Kid Toc®, which started in 2011 as a simple YouTube reading buddy video, quickly grew from pent up demand of trying to find an easier way to learn English. Kid Toc® offers a complete 4 level course with matching storybooks, lessons and videos. All products are easy digital access for PC/MAC, mobile, tablets and all reader devices. Kid Toc® enables users to read-along the storybooks with their Kid Toc® teachers, work through interactive fun lessons, vote for their favorite reader, gather reading points and unlock premium reading material and more. The company is now looking toward future growth, partnering with a publishing or distribution firm. Kid Toc® is a legally registered company and trademark and copyright of Kid Toc® LLC.
About Global Good Networks - http://GlobalGoodNetworks.com
GGN was co-founded by young entrepreneurs Josh Bois and Rick Jeffries to develop and market great brands that are changing the world in their own way. With Fortune 500 sponsors such as Microsoft, Intel, and Sony and a global high-profile client base, they are directing mass-influence towards ideas that make a difference.