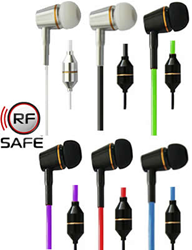 CHILDREN'S WIRELESS PROTECTION ACT - Maine, by law will force cell phone manufacturer's information about radio-frequency exposure (Cell Phone Radiation) to be plainly visible on the outside
Tampa, FL (PRWEB) March 21, 2014
According to RF Safe, "every major well-designed study ever conducted has found that those who use cellphones regularly for half an hour a day or more for a decade have a doubled risk of brain cancer, and those who began using cellphones as teenagers have four to five times more disease in less than 10 years."
John Coates, RF Safe's founder points to highly cited peer reviewed studies when making his case. Such as this study published in US National Library of Medicine National Institutes of Health Sep:2007 which took into account 16 other studies. Long-term use of cellular phones and brain tumours: increased risk associated with use for > or =10 years http://www.ncbi.nlm.nih.gov/pubmed/17409179
Originally named the CHILDREN'S WIRELESS PROTECTION ACT, this bill will require all cell phones sold retail (for-profit) in Maine, by law will force cell phone manufacturer's information about radio-frequency exposure (Cell Phone Radiation) to be plainly visible on the outside of the cell phone's packaging. 3/11/2014 Maine's House of Representatives has passed "The Wireless Information Act" with a House vote of 83 in favor and 56 opposed. http://www.mainelegislature.org/LawMakerWeb/summary.asp?LD=1013&SessionID=10
Hawaii passed a similar Bill on 2/20/2014 Hawaii Cell Phone Warning
RF Safe issued a press release February 12, 2014 that brain tumors are now the leading cancer that causes death in children and the rate that adults are getting brain tumors on the same side of the head as their phone is held now has many questioning cell phone radiation safety.
Coates suggest that parents "buy very simple safety accessories children will love which will protect their developing brain from cell phone radiation."
RF Safe headsets are an excellent, high quality-sounding product that delivers fantastic sound quality while eliminating the harmful radiation from reaching the brain. RF Safe Headsets allow users to enjoy listening music without electric components inside the ears - for completely safe radiation free sound only acoustic technology can deliver.
RF Safe's patented Air-Tube Technology produces the world's most durable, best sounding airtube headset on the market, so consumers can enjoy a live, on stage sound every-time a song is played through its acoustic sound chamber delivered through a sleek airtube design.
The wire used with ordinary headsets may allow harmful radiation to reach the brain of cellphone users. This potential hazard is avoided when RF Safe headsets are used.
According to John Coates "By replacing the wire found on ordinary headsets with patented acoustic air tube technology, the RF Safe headset reduces RF exposure to the head and increases the pleasure of listening to one's favorite music on their smartphone."
The big difference is RF Safe headsets work similar to a doctor's stethoscope, as sound is delivered inside of an air-tube into the ears.
Coates says, "RF Safe's headset is a perfect radiation free replacement for Blackberry headsets, iPod headsets, or Apple iPhone headsets, iPad headsets, Samsung Headsets and even works with 2.5 mm cordless phones with our free adapter that's included."
To learn more about RF Safe Headsets and the advancements in state-of-the-art air-tube technology visit http://www.rfsafe.com.
ABOUT RADIO FREQUENCY SAFE – RFSAFE.COM
RF SAFE is the world's premier provider of cell phone radiation protection accessories and informational data. Since 1998 RF (Radio Frequency) Safe has been dedicated to evolving the wireless industries safety standards, by engaging in the business of design, testing, manufacture, and sale of safety technologies to mitigate harmful effects of cell phone radiation.