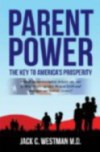 The United States is at the top of the list of developed nations in child abuse and neglect and the bottom in educational achievement
Madison, WI (PRWEB) October 21, 2013
A new book, Parent Power: The Key to America's Prosperity, by Dr. Jack Westman reveals the power parents have to create America's productive citizens. They also have the power to create social problems in the context of intergenerational poverty.
Dr. Westman calls attention to the fact that one-third of children and youth in the United States are failing in some aspect of their lives. The United States is at the top of the list of developed nations in child abuse and neglect and the bottom in educational achievement.
Five children die every day from abuse in the United States. Three million referrals are made to child protective services every year.
At some point in their lives, half of all children born in the United States will have lived in one-parent homes, mostly without fathers. More than half of them will live in poverty for a time and will continue the cycle of family disadvantage.
Parents who raise a productive citizen contribute $1.4 million to our economy. Parents who abuse and/or neglect a child who becomes a criminal or welfare dependent cost our economy $2.8 million. Without concerted action, every American taxpayer will continue to pay for the consequences.
"We can no longer drift with the illusion that our Gross Domestic Product measures our society's wellbeing while our human capital erodes," says Dr. Westman. "As our GDP has risen, child poverty, income inequality, child abuse and neglect, teen suicide, unemployment, wages, health insurance and food stamp coverage, access to affordable housing and homelessness have all grown worse. Our society clings to the illusion that we treasure our children and support parents, especially those who give their children every material advantage. In reality, social policies, the media, the internet and societal norms make the already challenging job of parenthood more difficult."
Parent Power makes it clear: the unpaid career of parenthood is more important for the health of our nation's economy than paid jobs.
Sure to stimulate controversy, Parent Power reveals the uncomfortable truth by describing:

Why thriving families are essential for our economic and social prosperity
The denigration of parenthood
The impact of divorce and one parent homes on children and adolescents
Juvenile ageism in families and society
"We trumpet our dedication to our children and adolescents while depriving them of opportunities to lead full lives as productive citizens," adds Dr. Westman. "In fact, too many young children are damaged by abuse and neglect. Only by ensuring that all newborn babies have competent parents will the United States return to its status as a powerhouse of prosperity."
For humanitarian and financial reasons─and for America's prosperity─government can be removed from family lives by preventing the formation of, and reducing the number of, dysfunctional families in the United States. This can be done by ensuring that every newborn baby has an opportunity to succeed in life by limiting the custody of newborn babies to persons who are not under the custody of others themselves. This can be done through a Parenthood Pledge that expands the birth certificate to become a parenthood certificate for the parent(s) of that child. When a girl or woman under the custody of others becomes pregnant, a Parenthood Planning Team would be activated to ensure that a qualified person(s) co-signs the Parenthood Pledge and has custody of the baby at birth. If there is no willing qualified person(s), a plan would be made for adoption at birth.
Parent Power reveals compelling evidence that as America suffers from high unemployment and a soaring national debt one of the primary causes is being overlooked─the decline in thriving families that threatens national prosperity and security. Recognizing newborn babies' right to competent parents and creating policies and resources to support that right are the first essential steps toward providing national security in an increasingly insecure world and retaining our global leadership.
Contact information:
Dr. Jack Westman
http://www.americasparentpower.com
http://www.jackwestman.com