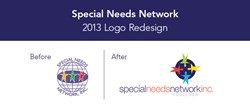 It was exciting to celebrate this milestone in our organization's history with so many of our closest friends and supporters.
Los Angeles, CA (PRWEB) October 29, 2013
During the 8th Annual Evening Under the Stars Awards Show and Gala sponsored by Toyota and CBS/KCAL9, Special Needs Network unveiled a logo to the 450 guests in attendance. Guests including celebrities, elected officials, distinguished community leaders and parents of kids with autism heard first-hand from Areva Martin, Esq., the organization's co-founder and president, why the organization decided to revamp the nonprofit's brand identity.
"It was exciting to celebrate this milestone in our organization's history with so many of our closest friends and supporters," says Martin. "We have worked tirelessly over the years to raise awareness and support for special needs children and our logo played an important part in our consistent message. This audience is used to relating with our logo so this was a big occasion."
Graphic designer, Daniel Fausto, created the new logo. With more than 15 years of experience, Fausto has worked with some of the largest brands in the entertainment industry and brought a clean, cutting-style to the process. When asked how he felt the new logo would position SNN for the future, Fausto stated the new logo lifts the nonprofit from a grassroots organization to a position poised for national limelight and movement. He, along with Martin, expects big things from SNN in the future.
The new logo positions the figures in a puzzle scenario, reflecting the mystery and complexity of the autism spectrum, a disease that impacts one in 50 children – a core population served by SNN.
"One particular element of the new logo that I appreciate is the different shapes and colors," says Martin. "I'm extremely proud of the diversity that this organization represents. We serve children and families that represent the every fabric of society and our new logo showcases that."
SNN's new logo also includes the addition of the word "together." Fausto explains this colloquial addition demonstrates the organization's commitment to their constituents. "We're in this together. We change lives together. We advocate together and we inspire a movement of change, together."
In addition to unveiling the organization's new logo, Martin shared the latest plans for a new autism medical clinic in LA. The event raised $275,000 to help fund the new clinic that will provide access to quality medical and developmental specialists to children with a range of disabilities and their families.
Since its inception, SNN has worked with more than 30,000 children and families and is known as California's resource organization for autism advocacy and serving under-served populations, particularly African American and Latino communities.
SNN has been helping thousands of children with autism and special needs for nearly a decade and its plans to build the new autism medical clinic are an extension of the organization's work in the community. The clinic, which will be housed on the campus of the Martin Luther King Hospital, will help address the fragmented medical care that currently exists for many families raising kids with autism, a system that creates a huge financial hardship for low- and moderate-income families and is set to open in early 2015.
To learn more about SNN and how they are leading the way in education, advocacy and public policy for children and adults with developmental disabilities, visit specialneedsnetwork.org or call (323) 291-7100. SNN invites anyone with questions or concerns about autism and other developmental disabilities to contact their office for information on available resources, programs and service providers.
ABOUT SPECIAL NEEDS NETWORK
Special Needs Network (SNN) is based in Los Angeles and is a nationally recognized advocacy organization for children and adults with developmental disabilities. As a registered 501c3, SNN focuses on raising public awareness, impacting public policy, increasing education and access to resources for families, children and adults.