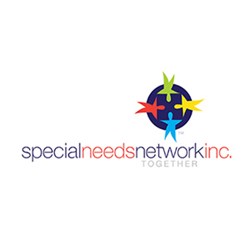 "Special Needs Network consistently demonstrates its value to this community," says LA County Supervisor Mark Ridley-Thomas
Los Angeles, CA (PRWEB) January 07, 2014
In a society full of worthy causes and organizations all trying to improve LA's social ailments, few are able to accomplish as much as LA's Special Needs Network. Over the past 12 months, co-founder Areva Martin, Esq. and her team have been able to increase the number of families assisted through their programs to nearly 50,000 – that's almost half of the entire population of Compton. Since opening its doors nearly a decade ago, SNN has become a leader in advocating for children and adults with autism and other developmental disabilities and is known as California's premier "go-to" organization for autism advocacy and serving under-served populations, particularly African American and Latino communities.
Just emerging from LA's largest toy drive for special needs children, SNN continues to set the mark for excellence within the nonprofit sector and community impact. Whether it's encouraging stronger legislation for underserved families or putting teddy bears in the hands of a child with disabilities, SNN proves time and time again its commitment to the city and county of Los Angeles.
"Special Needs Network consistently demonstrates its value to this community," says LA County Supervisor Mark Ridley-Thomas. "Their work is gold standard and I would be remiss to head into a new year without recognizing all they have accomplished in 2013. Having witnessed first hand their work in the community, it's a honor to have such a strong nonprofit leader in LA."
2014 promises to be a pivotal year for SNN, as the organization approaches the 2015 opening date of its autism medical clinic and anticipates a greater demand for its ever-growing summer camp for children with disabilities. With plans to expand its programs to serve not only the LA community but also more families in the state of California and across the nation, SNN's board of directors predicts the demand for the South LA-based organization will continue to grow.
"This past year was full of accomplishments for our organization," explains board member and entertainment attorney Bonnie Berry Lamon, Esq. "We have tackled bullying, focused on much-needed legislative changes, hosted a hugely popular summer camp for children with disabilities and so much more. You can guarantee that we'll be around for as long as we are needed and we'll make sure whatever we do is accomplished with enthusiasm and resolve."
Among the nonprofit's many accomplishments this past year includes hosting the county's largest anti-bullying event this past spring; supporting and helping promote UCLA's first-of-its-kind $10 million NIH-funded autism research to determine genetic causes of autism in African American children; raising $275,000 to help fund LA's first-ever autism medical clinic; as well as relocating its offices to the Chase Bank Building off Crenshaw Blvd in order to better serve the community.
"Leading this organization has been the greatest honor of my professional life," beams Areva Martin. "I'm continuously touched by the families and children we serve and constantly impressed by our team and their commitment to this community."
"The thought of growth is exciting because with growth comes more positive impact and with more positive impact comes a hope for a better tomorrow."
In addition to the organization's accomplishment, Martin was recognized several times last year for her leadership and dedication. Most recently, Delta Theta Sigma sorority honored Martin during a reception at the Museum of African American Art for her visionary leadership. Additionally, Ford Motor Company honored her last summer for her work with children and families living with special needs and other disabilities. Since 2007, Martin has been instrumental in changing legislation to better meet the needs of special needs children and has raised millions of dollars to address issues of disparities on behalf of minority communities.
To learn more about SNN, and their programs, visit specialneedsnetwork.org or call (323) 291-7100. SNN also invites anyone with questions or concerns about autism and other developmental disabilities to contact their office for information on available resources, programs and service providers.
ABOUT SPECIAL NEEDS NETWORK
Special Needs Network (SNN) is based in Los Angeles and is California's leading grassroots autism advocacy organization. As a nonprofit organization, SNN was established to help families faced with autism and other developmental disabilities. The organization focuses on raising public awareness, impacting public policy, increasing education and access to resources for families, children and adults.