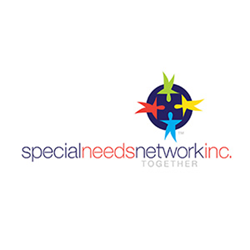 Engaging an online community is consistent with SNN's mission of raising awareness of autism and helping as many families as possible access much needed resources
Los Angeles, CA (PRWEB) May 13, 2014
On Wednesday, May 14, 2014 at noon EST/9 a.m. PST, celebrity moms and nationally recognized autism advocates Holly Robinson Peete, Jacqueline Laurita, Areva Martin, Esq., Jodi Gomes, Maura West, Dawn Nuefeld, Esq. and Wendy Fournier will participate in the first-ever autism Twitter Chat with SM Girlfriends, an online community of social media influencers, bloggers and socially conscious men and women who come together to support and encourage each other. With combined followers of more than 1 million, members of the SM Girlfriends network provide 24 hours of content and commentary on Twitter and Facebook on a range of current news issues, pop culture and celebrity news.
SM Girlfriends founder Dabney Porte, a social media and lifestyle coach, has teamed up with Special Needs Network's (SNN) co-founder and president and on-air legal and social commentator, Areva Martin, Esq., to support children with autism and other disabilities. SNN is one of California's premiere autism advocacy organizations. It has provided services to more than 35,000 families and is known as the "go-to" autism organization by national and local policy-makers, community leaders and philanthropists.
SNN hosts Los Angeles' only free summer inclusion camp for kids on the autism spectrum and their siblings. To support the camp and to defray the expenses for 300 attendees, SNN hosts one of LA's most anticipated spring gala's, The Pink Pump Affair. The event honors women who make a difference in the LA community and includes a couture fashion show, silent and live auction. At this year's gala on May 18, Emmy award-winning actress Loretta Devine will receive a Lifetime Achievement Award. Additionally, Congresswoman Janice Hahn, UCLA Professor Emerita Dr. B.J. Freeman and Mattel VP Graciela Meibar will receive Women of Distinction Awards. Famed fashion and lifestyle designer Sue Wong will present her fall line at a SNN exclusive fashion show.
Tweets during the one-hour chat event have the potential of reaching millions of online Twitter users and will engage a global online community to raise awareness about autism and the newly released Center for Disease Control report indicating a staggering 30 percent increase in autism since 2008. SNN and SM Girlfriends will help to demystify the autism diagnosis and provide practical advice to parents during the first-of-its-kind Twitter chat, the brainchild of SNN's president and co-founder, Areva Martin, Esq.. The host will pose questions to the celebrity moms and advocates on a range of topics from their personal reaction to the CDC report to how parents can balance raising a child with autism and other disabilities with busy work schedules.
"Engaging an online community is consistent with SNN's mission of raising awareness of autism and helping as many families as possible access much needed resources," says Martin. "We are thrilled to partner with SM Girlfriends and its thousands of members and the moms and guests who will join the Chat."
Excited about the opportunity, Martin shares that, "Social media is a powerful tool and allows us to educate and teach parents in a dynamic and interactive environment."
The Chat is open to the public and anyone can join by simply signing onto Twitter on Wednesday, May 14 at noon EST and tweet using the event hashtag #PinkPump. Participants are encouraged to follow on Twitter the panelists who include: @JacLaurita @HollyRPeete @MauraWest @JodiGomes @DawnNeufeld @WendyFournier @ArevaMartin and hosts @DabneyPorte @SMGirlfriends. New Twitter users, can sign on to twubs.com/PinkPump where you can follow along and easily participate.
Questions can be directed to (323) 291-7100 or jae(at)specialneedsnetwork(dot)org.
ABOUT SPECIAL NEEDS NETWORK
Special Needs Network is based in Los Angeles and is California's leading grassroots autism advocacy organization. SNN was established to help individuals and families faced with autism and other developmental disabilities. The organization focuses on raising public awareness, impacting public policy, increasing education and access to resources for families, children and adults. To learn more, visit specialneedsnetwork.org.
ABOUT AREVA MARTIN, ESQ
Areva Martin, Esq. is a mother, multi-award-winning Harvard-trained attorney, author, on-air legal expert, and nationally recognized child's rights advocate. She is the co-founder and president of Special Needs Network, California's leading advocacy organization for children and individuals with special needs, as well as managing partner of the LA-based law firm, Martin & Martin, LLP where she practices special education, labor and employment, and disability discrimination. To learn more about Areva, visit arevamartin.com.