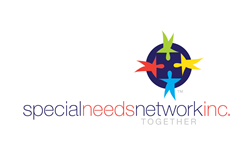 Autism isn't just a 30-day crisis. It impacts children and families every day of the year; their needs are expanding, not contracting.
Los Angeles, CA (PRWEB) May 19, 2014
One of California's most active nonprofits, Special Needs Network (SNN), connected with thousands of children and families throughout April, raising the bar for resources, research and access to care for children and families impacted by autism spectrum disorders.
In case you missed the blue color that helps mark the cause, April was Autism Awareness Month – a time when advocates, professionals and families around the globe come together to shine a much-needed spotlight on a disease that impacts one in 68 children.
"As we continue to face the harsh reality that autism is on the rise," says SNN president and co-founder Areva Martin, "we must continue to push policy-markers to enact stronger laws that provide greater resources for special needs children.
"Autism isn't just a 30-day crisis. It impacts children and families every day of the year; their needs are expanding, not contracting," says Martin.
As SNN prepared for its two-day conference, the Centers for Disease Control (CDC) issued a startling report indicating a 30 percent increase in autism. In response, SNN planned a series of activities centered on providing vital information and resources to families throughout California, particularly those in its most vulnerable communities. SNN's Legislative Breakfast event welcomed the state's leading policy makers and influencers for a discussion on increasing the state's investment in early childhood education and closing the identification gap, which is two to four years longer for African-American and Latino kids. California Senators Kevin DeLeon and Holly Mitchell and Los Angeles County Supervisor Mark Ridley-Thomas encouraged the standing room-only crowd to take action and join SNN and its community partners in advocating for a greater investment in early childhood education and special education resources.
SNN also hosted more than 425 students from six South Los Angeles middle schools at the second annual iStand4Peace anti-bullying summit. The summit, co-hosted by Los Angeles County Supervisor Mark Ridley-Thomas at the University of Southern California, included counselors, anti-bullying advocates and hip hop artists who challenged students to become ambassadors for inclusive campuses and stand up against harassment, intimidation and bullying.
In addition to its two-day conference, bullying summit and parent workshops, SNN hosted dozens of smaller events throughout the month, including activities in churches, trainings for parents, fun-filled activities for children and community outreach events.
The South L.A.-based nonprofit concluded Autism Awareness Month with a large and vocal presence at the state capitol. On April 30, Martin, along with other autism leaders from across the state, convened with state legislators to discuss legislation that will help children with autism and their families. SNN joined Autism Speaks and other statewide organizations to advocate for expansion of Applied Behavior Analysis (ABA) therapy through the Affordable Care Act. ABA can produce significant improvements in communication, social relationships, play and school success in children with autism spectrum disorder. Studies show that early diagnosis and subsequent treatment substantially improves the development and outcome for a child with autism. Martin and others presented data to legislators demonstrating how Medi-Cal coverage of ABA for children would save the state more than $12 billion over 15 years.
Martin encourages autism advocates to continue the momentum beyond Autism Awareness Month. Talk to legislators, school administrators, local business owners and co-workers about the importance of providing greater resources to kids and adults with autism spectrum disorders. Volunteer with a nonprofit like SNN, share the CDC report, use social media to raise awareness and, most importantly, learn the early warning signs of autism. Early identification and interventions are key to combatting autism.
Children with autism are counting on us to keep up the momentum going all year long.
Questions can be directed to (323) 291-7100 or jae(at)specialneedsnetwork(dot)org.
ABOUT SPECIAL NEEDS NETWORK
Special Needs Network is based in Los Angeles and is California's leading grassroots autism advocacy organization. SNN was established to help individuals and families faced with autism and other developmental disabilities. The organization focuses on raising public awareness, impacting public policy, increasing education and access to resources for families, children and adults. To learn more, visit specialneedsnetwork.org.
ABOUT AREVA MARTIN, ESQ
Areva Martin, Esq. is a mother, multi-award-winning Harvard-trained attorney, author, on-air legal expert, and nationally recognized child's rights advocate. She is the co-founder and president of Special Needs Network, California's leading advocacy organization for children and individuals with special needs, as well as managing partner of the LA-based law firm, Martin & Martin, LLP where she practices special education, labor and employment, and disability discrimination. To learn more about Areva, visit arevamartin.com.