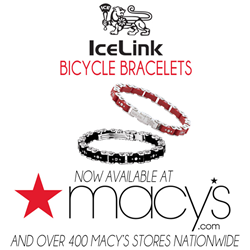 We believe our community is linked together with common bonds, so wearing the IceLink bicycle chain bracelet has special meaning to our families and supporters
Los Angeles, CA (PRWEB) June 12, 2014
Swiss-based watch and jewelry maker IceLink held their Link Party, a private celebrity charity event at its flagship boutique and rooftop lounge in West Hollywood, California to raise awareness for Special Needs Network (SNN) and support kids with autism.
The event is part of IceLink's three-month charity links campaign, during which it will donate 10 percent of the proceeds from sales of their yellow, green, red and turquoise bracelets to Special Needs Network. The bracelets are available at Macys.com and the IceLink Online Shop.
"I'm thrilled to have a high-end luxury jewelry line like IceLink partner with us," says SNN founder and president Areva Martin. "The company's philosophy of leading with authority and a kind heart matches perfectly with how our organization leads on issues of autism and special needs."
Martin continues, "We believe our community is linked together with common bonds, so wearing the IceLink bicycle chain bracelet has special meaning to our families and supporters."
Hosted by Ultimate Fighting Championships Champ Ronda Rousey, the event included celebrity supporters Lisa Vanderpump, Bo Roberts from 300: Rise of an Empire, Edyta Sliwinska of Dancing with the Stars, Max Ryan from Sex and the City, CSI's Sofia Milos and others.
"We're all 'linked,' therefore we all need to help each other," said IceLink co-owner Suzy Sogoyan. Each guest at the IceLink event received a patented, bicycle link bracelet in honor of SNN.
ABOUT SPECIAL NEEDS NETWORK
Special Needs Network is based in Los Angeles and is California's leading grassroots autism advocacy organization. SNN was established to help individuals and families faced with autism and other developmental disabilities. The organization focuses on raising public awareness, impacting public policy, increasing education and access to resources for families, children and adults. Since its inception, SNN has served more than 35,000 individuals and families impacted by autism. To learn more, visit specialneedsnetwork.org.