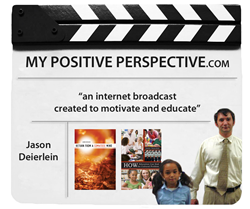 This cancer attacks the central nervous system
Charleston, SC (PRWEB) December 16, 2014
On December 15, 2014, My Positive Perspective host Jason Deierlein was joined by Adam White for an episode discussing the symptoms and affects of children's Neuroblastoma Cancer. White is the director of the event Chase After a Cure, an event aimed at raising money to fund a cure for Neuroblastoma Cancer. At the beginning of the episode, Deierlein asks White, "What are some of the symptoms experienced by a child having the beginning symptoms of Neuroblastoma Cancer?" White replies, "This is without question one of the most detrimental forms of cancer to children because it attacks the central nervous system. We usually see it attached to the kidneys or adrenal glands. The child will begin experiencing unexplained aches and pains."
Deierlein then says, "The survival rate for this disease is around fifty percent, why is the rate so low?" White responds, "Well this cancer is conducted when a child is two or three years old and often the child cannot express what is going on in their bodies because they can't articulate it yet."
Deierlein then asks, "Are there any foods that might prevent this disease?" White responds, "Preventing this disease can be quite tricky because this cancer has not been related to environmental causes, however, we are finding out ways we can identify predetermined conditions in which a child has a mutation that is cancerous."
My Positive Perspective is a media outlet believing that improvement in our community will be best achieved by focusing on the good things happening in our world today. Having survived a near fatal car accident as a youth, a shift of perception forced one to have a mentality of always concentrating on the brighter sides of things. This was true, and in my book, Return From a Comatose Mind, this belief was put to the test. Appreciation for life was the biggest thing one took away from my brush with death, and it is because of that gives me such a huge desire to be helpful to many. My Positive Perspective is a way of overcoming challenges through positive thinking.