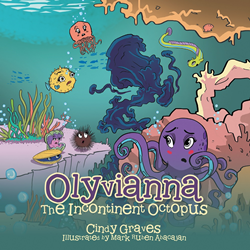 SALT LAKE CITY (PRWEB) February 18, 2019
"Olyvianna: The Incontinent Octopus" by Cindy Graves is a delightful children's book about an octopus who, embarrassed by her inability to control when she "inks", ends up saving her friends and herself from a shark by inking a large amount at the appropriate time. This shows readers the value of self-acceptance and self-expression over repression of parts of ourselves we cannot change.
Graves wrote this book to help children explore deeper issues and practice emotional intelligence early on. The topics covered in "Olyvianna" and the other books in the series are intended to start a conversation about our greatest resource, the next generation, and how we can teach them valuable skills to expand their emotional intelligence.
"Children are our most important resource," the author said. "With my books I intend to start a conversation aimed at examining ways of increasing the emotional IQ of both children and the adults that work with them."
"Olyvianna: The Incontinent Octopus"
By Cindy Graves
ISBN: 9781543463682 (softcover); 9781543463699 (electronic)
Available at the Xlibris Online Bookstore, Amazon and Barnes & Noble
About the Author
As a single mother of four, Cindy Graves studied Applied Mathematics and received her Bachelor of Science degree from Weber State University in 1994. She then went on to complete a 23-year career as an SQA Programmer and Analyst. She is currently writing poetry and children's stories, and living in Utah with her mother, six dogs, and three cats.