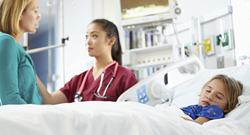 We're working to make sure that the Ronald McDonald House is able to continue helping children and their families here in Fort Worth.
Fort Worth, TX (PRWEB) June 24, 2015
Ray Insurance Agencies has announced a fundraising drive intended to provide financial support and community awareness for the local chapter of the Ronald McDonald House charity in Fort Worth, Texas.
Over the last 40 years, Ronald McDonald House has created a network of support facilities for the families of hospitalized children around the country and throughout the world. These specializes facilities offer a safe and quiet place to rest and refresh, allowing parents to stay close to sick or injured children receiving life-saving medical care.
Ronald McDonald House reports that keeping families close during times of tragedy can increase both the healthiness and happiness of hospitalized children, and in 2014 alone over 5 million families were able to stay close to their hospitalized child thanks to the efforts of the RMH charity.
"Ronald McDonald House is a cause worth supporting," says Ray Gustafson, owner and operator of Ray Insurance Agencies. "There's no balm more soothing to a sick child than the presence of family, and we're working to make sure that the Ronald McDonald House is able to continue helping children and their families here in Fort Worth."
Gustafson and his company boast a sizable network of clients, associates, and community members throughout the area, and the Ray Insurance Agency team is already hard at work reaching out to fellow Texans to gather donations for the Ronal McDonald House charity. Gustafson has also established an online presence via social media that continues to draw support from around the state.
Ray Insurance Agency isn't stopping with assisting hospitalized children – Gustafson has already supported charity drives to feed the hungry and to assist autistic children, and has committed to supporting a new charity every month or two over the next year, and perhaps even longer.
To learn more about the Ronald McDonald House charity or to make a direct donation, visit the Ray Insurance Agencies website, here. For an expanded list of charities supported by Ray Insurance Agencies, explore the Community Causes section of their website, here.
About Ray Insurance Agencies
Serving from offices in Fort Worth, TX Ray Insurance Agencies is committed to bringing local communities an insurance agency that understands their needs. Taking pride in its team of professionals, Ray Insurance Agencies works with carriers to assemble a variety of products and services for its customers. From all of the products a typical consumer needs (home, auto, boat, ATV, etc.,) to all financial services products and tools (retirement, savings, long term care, disability, etc.,) and business insurance (liability, building, auto) to workplace and individual benefits (accident, critical illness, cancer, disability, life), Ray Insurance covers all the bases for insurance needs in Central, TX.