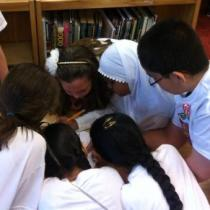 Basic educational supplies are critical to ensuring that our children receive the best education possible.
Glenolden, PA (PRWEB) October 26, 2015
Mattus & DiGiacomo Agency, a locally owned insurance firm that serves southern Philadelphia and the surrounding communities, is initiating a charity effort that will raise funds earmarked for the purchase of desks, tables, and chairs to be used by grade schoolers attending Glenolden-based Walter M Senkow Elementary School.
Mrs. Porrini teaches 1st through 5th grade students Senkow Elementary, and her classroom simply cannot seat the total number of students that attend her classes. Budgetary slowdowns have left Senkow administrators with little recourse, and the result is that a number of Mrs. Porrini's students are unable to actively participate in the curriculum.
Mattus & DiGiacomo has learned of the shortfall facing Senkow Elementary students and has taken up the cause in an effort to raise funds for new classroom furniture. "Basic educational supplies are critical to ensuring that our children receive the best education possible," says Guy DiGiacomo, owner and principal of Mattus & DiGiacomo Agency. "I know our community can come together and work to make sure our children are able to enjoy a proper education."
Working from a large list of personal and professional contacts, DiGiacomo and his team are reaching out to business leaders, community members, and educational professionals throughout the Philadelphia area to raise awareness of the plight of Senkow Elementary students and to gather contributions that will be used to purchase new classroom furniture. The team is also building a social media site aimed at drawing attention to the problem and preventing future budgetary shortfalls.
In addition to ensuring that the students of Senkow Elementary are able to fully benefit from their educational experience, the Mattus & DiGiacomo Agency has been involved with several other Philadelphia-based charity efforts of late, and plans to assist at least one new local charity every sixty days in the coming months.
Readers who wish to assist DiGiacomo and his team as they work to provide basic educational necessities to Senkow Elementary students are encouraged to visit the Mattus & DiGiacomo Agency website and make a personal donation from this page: http://www.mattusdigiacomoagency.com/Taking-A-Seat-In-Room-12C_17_community_cause. Readers who want to know more about the other Philadelphia-based charities that have been supported by Mattus & DiGiacomo are invited to view their Community Causes section here: http://www.mattusdigiacomoagency.com/community-cause.
About Mattus & DiGiacomo
Mattus & DiGiacomo Agency helps people with their insurance needs – from homes to auto to boats and more. Their quality, service-oriented agency is not only owned and operated by a family, but also driven to make customers feel like family, too. They take on a proactive working style with customers, and can help identify gaps in their protection and financial needs, further assisting them with helpful insight and information along the way. To speak with a specialist today, call 610-461-1000.