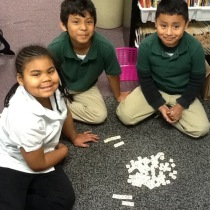 "Breaking the cycle of poverty begins with education, and ensuring that Belvoir students are properly equipped is the first step in that process.
Greenville, NC (PRWEB) October 21, 2015
AssureVest Insurance Group, a North Carolina-based insurance firm that serves Greenville, Washington, Williamston, and the surrounding communities, is initiating a charity drive that will raise funds to purchase needed supplies for students enrolled at the Belvoir Elementary School.
Belvoir Elementary serves a community that has been highly impacted by poverty, and students attending Belvoir are often without basic school supplies, such as pencils and erasers. Due to budgeting shortfalls, purchasing of scholastic supplies is sporadic at best. This charity drive will bypass bureaucratic slowdowns by raising enough funds to ensure that Belvoir students are fully equipped and ready to engage in scholastic activities from the first day of the semester.
"Breaking the cycle of poverty begins with education, and ensuring that Belvoir students are properly equipped is the first step in that process," explains Ryan Whitford, owner and principal of AssureVest Insurance Group. "Giving the next generation all the tools they need to benefit from the educational system is the most effective way to improve our communities in the long term."
Capitalizing on an extensive network of professional and personal contacts, Whitford and his team are reaching out to business leaders, community members, clients, and friends in an effort to raise awareness of educational system budgeting issues and raise funds for Belvoir Elementary. The team is also building a social media presence that they hope will attract attention from supporters outside the area.
As well as assisting Belvoir Elementary Students in acquiring the materials they need to get the most of their educational opportunities, AssureVest Insurance has worked alongside several other local charities over the past few months, and plans to work with another new local charity every 30-60 days for the foreseeable future.
Those interested in assisting Whitford and the AssureVest team as they support Belvoir Elementary students are encouraged to visit the AssureVest website and make a direct donation to the effort from the following page: http://assurevestinsurance.com/Keeping-Our-Minds-_19_community_cause. Those who want to learn more about the previous local charities supported by the AssureVest team are welcomed to the AssureVest Community Cause section, located here: http://assurevestinsurance.com/community-cause.
About AssureVest Insurance Group
As a Personal Finance Representative in North Carolina, agency owner, Ryan Whitford knows many local families. His knowledge and understanding of the people in his community helps provide customers with an outstanding level of service. Ryan and his team look forward to helping families protect the things that are important - family, home, car and more. They can also help clients prepare a strategy to achieve their financial goals. To contact an expert at AssureVest Insurance Group, call (252) 946-3904 or (252) 792-8131.