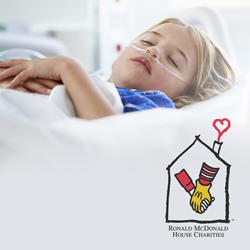 Keeping families together during times of crisis is one of the most important things we can do as a community, and the Ronald McDonald House charity drive will help do exactly that
Salem, IL (PRWEB) April 13, 2016
The Holmes-Drenckpohl Agency, an Illinois-based insurance firm with offices serving Salem, Effingham, and the greater St. Louis region, is launching a joint charity drive with global non-profit Ronald McDonald House to provide support to the families of sick and injured children.
For decades, the Ronald McDonald House has been consistently working to improve outcomes for hospitalized children by providing parents and families with temporary housing near hospital centers at little or no cost. Statistics show that when parents are able to remain close by, children respond more positively to medical treatment and enjoy higher recovery rates.
"Keeping families together during times of crisis is one of the most important things we can do as a community, and the Ronald McDonald House charity drive will help do exactly that," states Brandy Drenckpohl, owner and manager of the Holmes-Drenckpohl Agency.
To raise public awareness of the charity event, Drenckpohl and her team are creating an online social media presence and reaching out to local families via a community email bulletin. As well, the Drenckpohl team will produce a full page article featuring the charity drive in the next issue of "Our Hometown," an online magazine the firm publishes monthly: http://www.thehdagency.com/Our-Hometown-Magazine_46.
The Holmes-Drenckpohl Agency has worked with several other Illinois charities over the last few months, and plans to continue finding and working with even more local charities at the rate of one every 60 days.
Individuals or families looking to join the Holmes-Drenckpohl Agency and be part of the Ronald McDonald House charity event are invited to visit the following page and make a contribution to the cause: http://www.thehdagency.com/HELPING-FAMILIES-IN-OUR-COMMUNITY_11_community_cause. Those seeking information on previous Illinois charities supported by the Holmes-Drenckpohl Agency are invited to review the firm's Community Causes list: http://www.thehdagency.com/community-cause.
About Holmes-Drenckpohl Agency
The Holmes-Drenckpohl Agency is a family owned and operated, Illinois-based insurance firm with offices in Effingham and Salem, and owner Brandy Drenckpohl is committed to bringing her community an agency that understands their needs. Brandy and her team of caring professionals work with carriers to assemble a variety of plans that provide clients with complete peace of mind. From all of the products a typical consumer needs (home, auto, boat, ATV, etc.) to preparing strategies for long-term financial success, Holmes-Drenckpohl Agency strives to deliver consistently superior service. The capable agents at Holmes-Drenckpohl Agency may be reached by calling 618-548-2323 (Salem) or 217-347-5113 (Effingham).