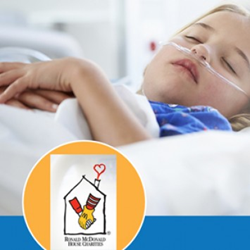 It's known that the presence of the family can help a child recover from a serious injury or trauma, which is precisely why the work done by Ronald McDonald House is so important
San Jose, CA (PRWEB) February 22, 2016
Pinnacle One Insurance, a California-based insurance firm with offices serving communities throughout Santa Cruz and the Bay Area, is initiating their second annual fund raising drive to benefit the Ronald McDonald House family of charities.
Ronald McDonald House charities offer lodgings and meals to the families of children receiving medical care in nearby facilities. One of the largest and most recognizable charities in the nation, RMH assists the families of more than 5 million children annually, allowing families to stay together during times of tragedy and crisis.
"It's known that the presence of the family can help a child recover from a serious injury or trauma, which is precisely why the work done by Ronald McDonald House is so important," explains Robert Varich, owner and manager of Pinnacle One Insurance.
Capitalizing on relationships made during the RMH charity drive last year, Varich and his team are publicizing the follow up charity effort via an online social media and email awareness campaign aimed at leaders in nearby communities. As well, Pinnacle One Insurance will feature the RMH charity drive in the upcoming edition of "Our Hometown," a monthly Internet magazine produced by the firm: http://www.pin1ins.com/Our-Hometown-Magazine_39.
In addition to launching yearly Ronald McDonald House fund raising drives, Varich and his team have committed themselves to an ongoing charity involvement program that will include supporting another California based charity or cause every other month.
Those who wish to join Pinnacle One Insurance during the Ronald McDonald House charity drive are invited to make a donation directly to the cause from this page: http://www.pin1ins.com/Helping-Support-Our-Local-Families_20_community_cause. Those interested in learning more about the other charities that have enjoyed support from the Pinnacle One team can review the firm's Community Cause list: http://www.pin1ins.com/community-cause.
About Pinnacle One Insurance
Pinnacle One Insurance's team mission is to provide the best insurance and financial services in the industry. Their number one job is to protect the assets for which their customers have worked so hard, and to help them invest so they may retire in comfort. Pinnacle One's success is measured by customer satisfaction and the added value brought to their lives. To reach the capable and caring agents at Pinnacle One Insurance, visit http://www.pin1ins.com/ or call 408-257-1234.