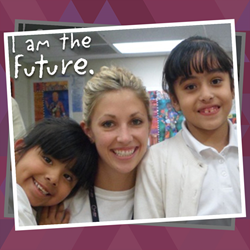 We had a wonderful time last weekend helping out the Future For KIDS volunteers, and we're looking forward to reaching even more people during our upcoming cause rally
Scottsdale, AZ (PRWEB) February 16, 2016
The Misty Everette Agency, an Arizona-based insurance firm with offices serving the Phoenix and Scottsdale regions, will be hosting their first Cause Rally to benefit the Future for KIDS organization on February 23rd, and the Everette team has set a goal of raising over $500 that day.
Tempe-based Future For KIDS is committed to presenting programs and camps that make a positive difference in the lives of Arizona children with a broad range of no-cost out-of-school time programs focused on Academics, Athletics, and Ethics. To complement the programs already provided, this joint charity drive will fund the introduction of nutritional education and provide participating children with healthy snacks.
"We had a wonderful time last weekend helping out the Future For KIDS volunteers, and we're looking forward to reaching even more people during our upcoming cause rally," says Misty Everette, founder and manager of the Misty Everette Agency.
This marks the second time Misty Everette Agency and the Future For KIDS organization have worked together. Everette and her team are busy shaking the trees and drawing out supporters via a social media presence and email awareness program, and the firm will be drawing up a feature article detailing the Future For KIDS charity drive in the new edition of "Our Hometown," a monthly online publication produced by the Everette team: http://www.mistyeveretteagency.com/Our-Hometown-Magazine_41.
Future For KIDS isn't the only organization Everette and her team have supported recently, however. As part of a long term community improvement program, Misty Everette Agency chooses and works with a new Arizona-based charity every other month.
Those who want to join the Misty Everette Agency in the Future For KIDS charity drive are invited to make a contribution to the cause directly from the firm website: http://www.mistyeveretteagency.com/A-365-Day-Supply-Of-Healthy-Snacks---Future-For-Kids_22_community_cause. Those who want to see which other charities and causes have enjoyed the support of the Everette Agency are invited to browse the Community Causes list here: http://www.mistyeveretteagency.com/community-cause.
About Misty Everette Agency
Serving from their office in Scottsdale, AZ, the Misty Everette Agency is committed to bringing local communities an insurance agency that understands their needs. Taking pride in its team of professionals, Misty Everette Agency works with carriers to assemble a variety of products and services for its customers. From all of the products a typical consumer needs (home, auto, boat, ATV, etc.,) to all financial services products and tools (retirement, savings, long term care, disability, etc.,) and business insurance (liability, building, auto) to workplace and individual benefits (accident, critical illness, cancer, disability, life), Misty Everette Agency covers all the bases for insurance needs in Scottsdale, AZ and the surrounding areas.