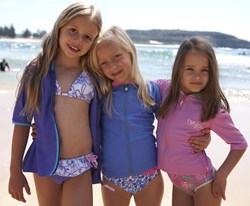 ...a family holiday is one of a child's greatest joys, not to mention a loving memory as they grow up...
Sydney, NSW (PRWEB) November 04, 2013
As the end of year festivities approach, long-time industry leaders Platypus Australia decided to help parents with gift buying this year by collating their data to find their most popular items. The children's UV swimwear company's results are in, just in time for holiday shopping. Expert in the field of sun safety for little ones, company founder Ms. Karel Wheen is excited to reveal her top five best Christmas gifts for kids, "Going to the beach and playing in the water for a family holiday is one of a child's greatest joys, not to mention a loving memory as they grow up. This year we're helping parents make those memories even greater."
Being in the Southern Hemisphere, Australian families tend to celebrate Christmas under blue skies at the beach. Because of this, gifts are naturally beach and swim related; however, it doesn't make the holiday shopping any easier for parents who must seek out presents which are fashionable, high quality and contain sun protection within them.
Providing ideal swimwear for children since 1996, Platypus Australia decided they would collate their years of data to locate their best selling products this year. Because all of their products include UPF50+ rating, which blocks out 97.5% of harmful ultraviolet radiation, the sun protection requirement for parents is simply built-in.
Ms. Wheen says the other factors parents are looking for in their gift search is quality and comfort, "and those are both also part and parcel of our products." So with sun protection, quality and comfort as fundamental aspects of the swimwear company's range, "the big unknown for parents who are shopping for beach gifts is what style and fashion trend to pick. Well, it was unknown until now."
The Platypus Australia director goes on to reveal the company's top five best Christmas gifts based on her findings. She starts off with the littlest ones in the family, "The Dandelion Swimsuit for baby girls and the Fido Long Sleeve Rash Shirt for baby boys are amongst our top sellers for infants." Ms. Wheen says this is because both the patterns and colours are highly appealing to parent and child.
Ms. Wheen then reveals the second best gift from her range called the Mermaid Swirl Singlet Kini which is "just perfect for girls around the ages of 2 to 8 years old. It's a trendy set with a gorgeous design and colour combination. The Mermaid Swirl Sunset top really compliments the kini set when it's time to cover up." Her data also uncovered the Sonic Wave Slim Boardshort as a "top gift for boys in that same age range of 2 to 8. The modern pattern and deeper colours are truly appealing to the young men of the family."
The last of the top presents for children this Christmas are amongst Ms. Wheen's personal favourites. The Butterfly Bikini with Miniskirt for pre-teen and teenage girls is "a mixture of purple line patterns and little polka dots, it simply charms everyone who sees it. We've also found girls love the Zip Sun Jackets too, they use them to cover up when heading away from the beach to lunch with their friends." The last of the best gifts is the combination of a Sundaze Hibiscus Slim Boardshort with a Short Sleeve Sunshirt. She says this combo is a "top seller and really popular for 10 year old boys and up. They're fun, yet mature, and a sure-fire winner for parents looking for a great gift for their son."
Although Ms. Wheen's top five list includes her company's best sellers, the same qualities and fashion appeal can be found across the rest of the range, which includes a variety of mix and match pieces, as well as accessories like sun hats.
To help parents pick out the best Christmas gifts for their children, Platypus Australia collated their top selling data. The company director revealed her top five ideal presents for kids headed to the beach this holiday season to make shopping easier on parents. Ms. Wheen's reminds families that their entire children's UV swimwear range comes with the UPF50+ rating "built in, so to speak; which means all our products meet the high standards of the Australian Radiation Protection and Nuclear Safety Agency and British Standard for Ultraviolet Radiation." To view Platypus's great range of products as gifts for this holiday season, be it swimsuits, board shorts, skirts, sun and rash shirts, caps, or bucket hats click here.
About Platypus Australia
Since their beginnings in 1996, Platypus Australia's quality children's UV protective swimwear has spread to the UK, Europe, Asia and USA. They're export-ready garments are internationally acclaimed and in high demand since the effects of harsh ultraviolet radiation are now well known.
Platypus Australia's beachwear gives parents peace of mind knowing their children are safe, while having fun in the sun. For more information regarding their renowned product range, visit http://www.platypusaustralia.com.