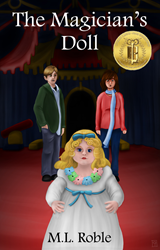 Author M.L. Roble has created a well-written and suspenseful mystery...
CHICAGO, Ill. (PRWEB) November 04, 2014
M.L. Roble of Chicago, Ill. recently received a Literary Classics Gold Award for her book, "The Magician's Doll." The award, which recognizes top books for children and young adults, was bestowed in the Pre-Teen Fantasy category.
Award recipients were selected by the Literary Classics Awards committee from entries received from all around the globe. Literary Classics strives to honor excellence in literature, thereby encouraging a passion for reading while promoting education, imagination and character in young readers.
"To be a recipient of a Literary Classics Award means the book represents these values, and this makes me feel so honored and proud," Roble said.
South Dakota-based Literary Classics takes great pride in its role to help promote classic literature which appeals to youth, while educating and encouraging positive values in the impressionable young minds of future generations. Judging for the Gold Award was based on the criteria set forth by Literary Classics' highly selective awards committee, which honors books promoting character, vision, creativity and learning through content that possesses key elements found in well-crafted literature. The Literary Classics judging committee consists of experts with backgrounds in publishing, writing, editing, design, illustration, and book reviewing.
The recent Gold Award earned by Roble complements a Children's Literary Classics Seal of Approval that "The Magician's Doll" received earlier this year. In addition, the book also garnered national recognition from the 8th Annual 2014 National Indie Excellence® Awards, in which it was chosen as a finalist for the Pre-Teen Fiction category.
These awards may be somewhat surprising, as "The Magician's Doll" is an independently-published book with relatively low exposure. However, the merits of the book are obvious, given its enthralling mystery, unique storyline and well-developed characters. According to Literary Classics' review, the story centers on 12-year-old Natalie, whose mother is a psychic. As uncomfortable as Natalie is with her mother's unconventional behavior, it's only natural that she would find it vexing when she begins "seeing" things herself. Natalie's life takes an interesting turn when Phillip, the shy neighbor boy, starts hanging around. When they find themselves at a magician's performance at the circus, Natalie meets the magician's doll and is drawn into a powerful world of magic and mystery. As the story unfolds, readers encounter a gripping fantasy that appeals to girls, boys—and even adults.
In its official review, Literary Classics praised "The Magician's Doll" for its excellence in writing and storytelling, saying: "Author M.L. Roble has created a well-written and suspenseful mystery in "The Magician's Doll." This unique storyline captures the reader, as well-developed characters become embroiled in a battle between good and evil. Lots of unique plot twists, interspersed with a bit of humor, help make this book an exciting and engaging read. Subtle references to life messages that teach positive values to young readers are an added bonus to this book, which comes highly recommended."
Roble is also the proud author of "Encounter Way: A Novella of Supernatural Suspense." Both of her books can be purchased online at Amazon.com and Barnesandnoble.com. In addition, "The Magician's Doll" can be ordered through other retailers and independent bookstores.
To learn more about Roble and her work," please visit http://mlroble.com.
About M.L. Roble
M.L. Roble is the author of "Encounter Way: A Novella of Supernatural Suspense" and "The Magician's Doll," her award-winning, middle-grade fantasy book. Roble, who relishes reading and telling good stories, grew up consuming novels like "The Chronicles of Narnia" and "The Shattered Stone." Over the years, her passion for this genre of literature has driven her to produce highly-acclaimed work that readers of all ages can enjoy. Roble is based in the Chicago area, where she is currently working on the sequel to "The Magician's Doll."