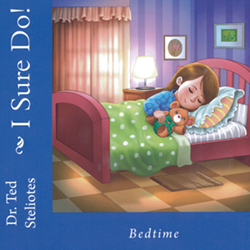 I love writing books that parents and their kids can both enjoy.
Pittsburgh, PA (PRWEB) October 19, 2015
Dr. Ted Steliotes, an award-winning dentist with a thriving practice in McMurray, PA, adds an engaging new storybook to his line of children's literature, entitled, "I Sure Do! Bedtime."
Recommended for children up to age 7, "I Sure Do! Bedtime" teaches children to anticipate getting a good night's rest by going through a routine. The book follows the beloved bedtime rituals of children and parents everywhere: taking a bath, packing the next day's school bag, saying prayers, and cuddling a favorite stuffed animal. Each page of the story shows routines that families enjoy when getting ready for bed, and each ends with the statement, "I sure do!" Using engaging pictures, a relatable story, and familiar word patterns, "I Sure Do! Bedtime" invites families to add this sweet story to their own bedtime routine.
Dr. Steliotes, who has been writing children's books for several years, cites his toddler son, Leonidas, as his inspiration.
"I've always loved to write, but now that I have a son, I'm excited to continue my dream of telling stories and sharing the world with him," said Dr. Steliotes. "I've developed my children's books with him in mind, and I'm looking forward to the day when he can read the 'I Sure Do!' books to me."
Proceeds from the "I Sure Do" series are being donated to the Smile Train organization. Smile Train is an international children's charity that provides free cleft lip and/or palate surgery for children in 87 countries. Local doctors are trained and funded through Smile Train, and they repair cleft lips and palates through a simple surgery. This repair gives these children the ability to more easily breathe, eat, and talk, as well as the opportunity to live a normal life that they otherwise may be denied.
A prolific author, Dr. Steliotes plans to write several children's books every year. "I love writing books that parents and their kids can both enjoy. Then, through my affiliation with Smile Train, I can also provide donations from book sales to help children in need. As a dentist, I know how important it is to have cleft lips and palates repaired early," he said.
Future "I Sure Do!" books will explore universal themes including Christmas and grandparents, capturing the special moments in the lives of children and their families. To learn more, visit his website at http://www.drtedsbooks.com or his Facebook page at http://www.facebook.com/drtedbooks.
Availability
All of Dr. Steliotes' books, which include the titles, "I Sure Do! Bedtime," "The Sleepy Time Train," "How Did You Get So Cute?," and "Good Morning, Good Morning, Good Morning To You!" are now available for purchase at http://www.drtedsbooks.com. When ordering, you also have the option to include a personal note for your child from Dr. Steliotes. Media kits, review copies, interviews, and in-person readings available on request. Special feature story inquiries welcome.
Media contact:
Linda Jo Lewis
Higher Images, Inc.
412-203-1996
lindajo(at)higherimages(dot)com