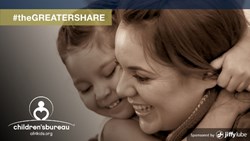 It's about celebrating how we come together, each in our own way, to invest in the greater cause of preventing child abuse.
Los Angeles, CA (PRWEB) February 22, 2014
Children's Bureau launched a creative advertising campaign in January using a hashtag, #theGreaterShare, to spark conversation about child abuse prevention. This is the 19th year that Children's Bureau has partnered with several outdoor companies to promote the nonprofit on more than 500 digital and print billboards, bus shelters, bus side panels, airport and shopping mall shelters throughout Southern California. The outdoor advertising campaign has an estimated in-kind value of more than $1 million.
"We're really excited about engaging the community in The Greater Share. It's about celebrating how we come together, each in our own way, to invest in the greater cause of preventing child abuse. You might be a volunteer at an event, or a parent taking a class or an executive making a donation. All of these ways of getting involved help our children, families and communities to thrive," said Alan Berkes, creative strategist at Kovel/Fuller and Children's Bureau board member.
The outdoor companies (including CBS Outdoor, Clear Channel Outdoor, EYE Corp., JC Decaux, Lamar, Regency Outdoor, Summit Media, Titan and Van Wagner) have donated the space to Children's Bureau for the months of January through March. Jiffy Lube donated $10,000 to cover printing expenses while Cause Farm Creative and Leidy Designs donated creative services.
"A campaign of this magnitude is a true gift and one we could not have achieved on our own. We are grateful for the companies that generously support this annual campaign and our work. We also hope the Greater Share message resonates with the community and inspires them to donate, volunteer and share how they too are a part of the conversation to prevent child abuse," said Children's Bureau President & CEO Alex Morales.
Since 1904, Children's Bureau (http://www.all4kids.org) has been a nonprofit leader in the prevention and treatment of child abuse and neglect. More than 28,000 children and families are helped each year throughout Southern California with services that include school readiness, parenting classes, family resource centers, support groups, mental health counseling, foster care and adoption. Children's Bureau is the largest investor in child abuse prevention in the country and is developing a national model to transform an entire at-risk community through its Magnolia Community Initiative.
# # #