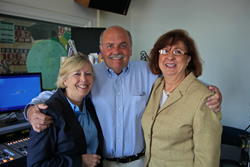 Children are exposed to trauma in so many ways
Buffalo, New York (PRWEB) July 01, 2014
Spotlight on Health on 96.1 JOY-FM hosted by Tom McNulty and produced by Dale Mussen has received support from the Health Foundation of Western and Central New York's Fellows Action Network to do a two-part series on the impact of trauma on children's physical and mental health.
"Children are exposed to trauma is so many ways, we are now learning the physical and mental health impact it has on them. The fear of impending harm, drive by shootings, domestic violence, sexting, television news about war or school shootings, bullying and sexual abuse rattle the body in very serious ways. We wanted to use our radio program, now in its 11th year, to begin to educate our listeners and heighten awareness, said Tom McNulty, host of Spotlight on Health and a behavioral health expert and public speaker.
The Health Foundation of Western and Central New York funded the episodes and will make copies of the show available for free to anyone. Dr. Katie Grimm, board certified pediatrician and internal medicine physician has been very active in the western New York community advocating for greater awareness and acceptance of the proven research. Sue Ventresca, R.N. is a director of health services in a large public school system. Both are Fellows of the Fellows Action Network - as is host, Tom McNulty.
Spotlight on Health is a 30-minute, weekly, health talk radio program sponsored by DENT Neurologic Institute, Mercy Hospital of Buffalo, WNY Pediatric Gastroenterology, Spotlight on Hope, Inc., and Success Stories, Inc.