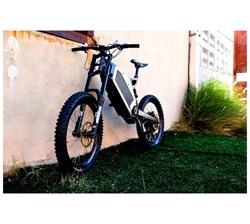 Stealth Electric Bikes are perfect for taking on the vast distances and the wide variety of terrain and high winds that Chile is known for
Phoenix, AZ (PRWEB) August 24, 2013
Stealth Electric Bikes is proud to announce the latest new Stealth Electric Bikes dealership in Santiago, Chile. The Bomber, The Hurricane, and The Fighter Stealth Electric Bikes are all available for complete customization options both online and location by experienced bike dealers throughout Chile.
"Chile is regarded as one of the most popular countries for bicycle touring in South America. Stealth Electric Bikes are perfect for taking on the vast distances and the wide variety of terrain and high winds that Chile is known for," said Darin Brin, Director of Stealth Electric Bikes.
Electro Bikes in Santiago, Chile now offers The Bomber, The Fighter, and The Hurricane Stealth Electric Bikes. The Bomber will take the rider on distances of up to 50 Miles on a single two-hour charge.
All Stealth Electric Bikes run almost silently at only about 65db due to the high-rate lithium battery. Bikers can bring an optional spare battery or recharge the battery on a single 2 hour charge. By activating the Regen Button, bikers can also convert braking energy back into electrical energy to recharge the battery.
The Fighter and The Hurricane Stealth Electric Bike reaches distances exceeding 35 miles on a single charge. Stealth Electric Bikes now feature a rear DNM suspension upgrade as a standard feature with a coil for extra stability.
For a complete listing of Stealth Electric Bikes authorized dealerships and retailers throughout Chile and across the world, please visit: http://StealthElectricBikesUSA.com
About Stealth Electric Bikes USA
Stealth Electric Bikes redefine the ride experience. They are considered by peers to be the toughest and most powerful hybrid electric bikes available anywhere in the world. Electric Bike Dealers are encouraged to inquire about opportunities to become a dealer. For more information about distributing in your area, please contact Stealth Electric Bikes USA at 480-993-0327.