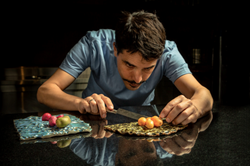 Executive Chef Yvan Mucharraz invites Mexico and Latin America's most lauded chefs to prepare a special menu with local ingredients at signature restaurant COMAL for one night only.
LOS CABOS, Mexico (PRWEB) February 15, 2022
Chileno Bay Resort & Residences, Auberge Resorts Collection, an intimate contemporary retreat known for its culinary excellence helmed by Chef Yvan Mucharraz, announces the debut of Taste of Auberge: Baja Lab Kitchen at Chileno Bay, a curated series of top guest chef collaborations that will kick off on February 18, 2022. Chef Yvan invites Mexico and Latin America's most lauded chefs – including Virgilio Martinez of CENTRAL, the No. 4 restaurant in the world – to prepare a special menu with local ingredients at signature restaurant COMAL for one night only. A play on gastronomic experimentation, the experience will be an unprecedented encounter between the world's most extraordinary culinary minds to interpret Baja's bounty through a global and creative lens. Baja Lab Kitchen will occur monthly throughout COMAL's fifth anniversary year, which will allow guests of the six-bedroom Brisa del Mar the opportunity of a lifetime to engage with the visiting chef for a private in-villa dinner.
"Chileno Bay is an ever-evolving culinary icon in Baja California and this series offers epicureans and travelers an unrivaled experience that has not yet been executed in Los Cabos to this caliber," said Roger Ponce, regional vice president and general manager, Chileno Bay Resort & Residences, Auberge Resorts Collection. "Baja Lab Kitchen is truly about experimenting with the beautiful ingredients native to our region and presenting them with a fusion of culture and with true collaboration between Yvan and our mastermind visiting chefs. I am most excited to see our guests taste, see, feel and sense Baja in a fresh and reimagined way."
Each of the Baja Lab Kitchen guest chefs will work closely with Baja purveyors to create new menu items exclusive to each one-night-only dinner event. The collaborative dishes will highlight the best of the local landscape, showcasing fresh fare harvested that day and sourced straight from the sea and shore just steps away, while bringing other cultures to light.
UNPARALLELED CUISINE & EXPERIENCE WITH ACCLAIMED GUEST CHEFS
The series kicks off with husband-and-wife chef team, Norma Listman and Squib Keval, on February 18-19, 2022. The couple fuses one another's heritage Mexican and Indian flavors at their buzzy CDMX restaurant, Masala y Maiz, and will bring their knowledge of the migration of spices, chiles, ingredients and cooking techniques between Mexico, South Asia and East Africa to Baja Lab Kitchen.
Headlining the series will be internationally acclaimed Peruvian chef and restaurateur Virgilio Martínez of Lima's CENTRAL over May 6-7, 2022. With a philosophy and cooking style based on exploring everything there is "outside," Martínez and his visionary creations at CENTRAL have catapulted Peru's culinary culture and extraordinary biodiversity on the global level. CENTRAL currently holds the No. 4 ranking on the World's 50 Best Restaurants and the distinction of The Greatest Restaurant in Latin America between 2013-2021. In 2013, Martínez and his sister, Malena, co-founded Mater Iniciativa as a research, interpretation and ex- perimentation center for learning more about Peruvian ingredients in their place of origin. Guests who book the private villa dinner will encounter some of the most esteemed dishes from the Lima restaurant. Chef Martínez will bring CENTRAL's focus on showcasing local biodiversity and the importance of the social and ecological environments through food to Los Cabos to explore Baja's heirloom ingredients from mountains, desert and sea.
The series' current 2022 schedule includes the following, with additional chefs to be announced:

February 18 and 19: Norma Listman and Squib Keval (Masala y Maiz, Mexico City)
March 17 and 18: José Luis Hinostroza (ARCA, Tulum), David Castro and Maribel Aldaco (La Mari, Mexico City)
April 1 and 2: Benito Molina (Manzanilla, Ensenada), Lele Cristóbal (Cafe San Juan, Buenos Aires)
May 6 and 7: Virgilio Martínez (CENTRAL, Lima)
December 3 and 4: Daniela Soto-Ines (World's Best Female Chef by World's 50 Best Restaurant Awards)
PRIVATE IN-VILLA DINING FOR AN INTIMATE & PERSONALIZED EXPERIENCE
The second night of each guest chef debut offers a singular opportunity for villa guests to indulge in a once-in-a-lifetime dinner for up to 12 people, prepared by Chef Yvan and the visiting chef. Guests will enjoy witnessing the exacting preparation involved behind the multi-course tasting menu in the villa's kitchen as well as personal interaction with the chefs, who will share stories about each dish as they cook. Gather friends and family for a night to remember with cocktails, epicurean delights, world-class company and warm service in the privacy of a spacious villa.
INTRODUCING, YAYA: ELEVATED, LOCALLY SOURCED DINING OUTPOST
The year-long events will symbolically take place during COMAL's anniversary year while introducing the resort's newest restaurant, YAYA, which is set to debut in April 2022. A Spanish term of endearment for "grandmother," YAYA will feature the comforts of traditional home cooking through a casual yet elevated experience. The fully-climatized indoor restaurant will be dedicated to using organic and locally farm-sourced ingredients and produce which will take center stage in regionally-inspired dishes.
For more information or to book a Baja Lab Kitchen experience, please visit aubergeresorts.com/chilenobay/experiences/baja-lab-kitchen.
About Chileno Bay Resort & Residences, Auberge Resorts Collection
Only a 30-minute drive from San Jose Del Cabo International Airport, Chileno Bay Resort & Residences, Auberge Resorts Collection is a contemporary resort in Los Cabos, Mexico. Set on the most coveted swimming beach in Los Cabos, the resort offers a fresh style and an active, engaging environment to create the perfect escape for families, groups of friends and active couples. Boasting 60 hotel rooms – including five Ocean View Wellness rooms for the fitness-minded – and 32 two-, three- and four-bedroom villas with panoramic ocean or mountain views, the resort is known for its warm and welcoming hospitality. Amenities include a three-tiered infinity-edge pool which is the striking centerpiece or the resort, a destination spa and fitness center, and an extensive array of watersports enjoyed on the beach. Guests delight at the inventive Latin cuisine at the signature open-air restaurant COMAL, and relax at TnT, the toes-in-the-sand taco and tequila bar.
For more information: aubergeresorts.com/chilenobay/
Follow Chileno Bay Resort & Residences on Facebook and Instagram @ChilenoBayAuberge
About Auberge Resorts Collection
Auberge Resorts Collection is a portfolio of extraordinary hotels, resorts, residences and private clubs. While each property is unique, all share a crafted approach to luxury and bring the soul of the locale to life through captivating design, exceptional cuisine, innovative spas, and gracious yet unobtrusive service. With 22 one-of-a-kind hotels and resorts, Auberge invites guests to create unforgettable stories in some of the world's most desirable destinations.
For more information: aubergeresorts.com
Connect with Auberge Resorts Collection on Facebook Twitter and Instagram @AubergeResorts and #AlwaysAuberge
About The Friedkin Group
The Friedkin Group is a privately-held consortium of automotive, hospitality, entertainment, sports and adventure companies. These organizations include: Gulf States Toyota, GSFSGroup, US AutoLogistics, Ascent Automotive Group, Auberge Resorts Collection, AS Roma, Imperative Entertainment, 30WEST, NEON, Diamond Creek Golf Club, Congaree and Legendary Expeditions. The Friedkin Group is led by Chairman and CEO Dan Friedkin. For more information, visit http://www.friedkin.com.
MEDIA CONTACT:
Jessica Rothschild / Rachel Zembraski
Murphy O'Brien Public Relations
cbrr@murphyobrien.com